Whipped Ass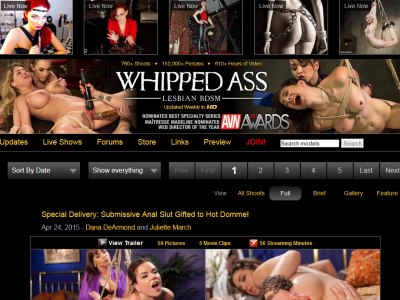 Whipped Ass is an absolute must for the femdom fans out there. They have more than 735 full length episodes for your entertainment and they continue to update and evolve the site. There are so many great things about it that it's hard to pick one that stands out, but I think it's probably the sheer hotness of the models. These girls are supermodel quality and they're being abused beautifully.
Whipped Ass: Lesbian mistress Chanel Preston abuses Jane Wilde with a strap on
Whipped Ass Review
30-April-2015
Freetour offers: The femdom niche is alive and well and one of its finest representatives is Whipped Ass. They feature nasty dommes using and abusing slutty little slaves and they're willing to share it all with your on the tour. Seeing all the hot girls and all the instruments of pain and pleasure they use during each scene should be enough.

General impression: I've heard about Whipped Ass before and all the good things I heard appear to be spot on. The girls are phenomenally beautiful, it seems very well produced and they're serious about their female domination. It looks like some of the scenes feature genuine bondage and just about all of them have the women in pain of some sort. I also really dig the fetish gear I see some of the ladies posing in. There's a scene with Aiden Starr as a latex clad domme and I confess that I felt my cock stirring as I looked at the preview pictures.

Bravo's opinion:  There are so many different things to appreciate about Whipped Ass. The scenes have so many different elements to them that the site clearly rises above the competition. Some sites to femdom content, some do latex and leather, some do strap-on sex, some do bondage, but very few put it all together in one package. Whipped Ass is on that list and they do it over more than 735 to see the content from the site's launch.

If you happen to go back you'll see that the site has evolved a great deal since the early days. Back then it was strictly a BDSM site. The girls were subjected to abuse of all kinds, including whipping, tit torture, rope bondage, suspensions, hot wax, and a variety of pussy punishments. Over the years they've added different elements and fleshed things out a bit. Nowadays there 50-55 minutes and every second is filled with hot action.

They divide each scene into chapters, making it easy for you to select exactly what you're interested in seeing. The first clip is usually about setting the scene. We meet the girl and if there's any plot to the scene they lay it out for us. That clip also typically includes the beginning of the bondage. By the second one they're fully involved and the girl is already in pain of some sort. Maybe her nipples are being pinched or clothes pins have been attached to them. Maybe she's had a ball gag strapped across her face and she's being whipped.

From there they tend to mix it up scene to scene but there are elements that come back often. Forced pussy and ass eating is one of my favorites. The domme wants pleasure and she has a slave at her disposal so she takes off her panties and either sits on the girl's face or pulls it into her crotch. I'm a fan of the ass eating because it's naughtier and more humiliating, but the pussy eating is just as hot. They also pursue a variety of BDSM behaviors. I don't know if the dommes are skilled at rope tying or if they have someone else do it but it's very impressive and most scenes include some sort of bondage.

If you saw the tour then you know that strap-on fucking is a big part of the action at Whipped Ass. Almost every scene features the domme putting on a plastic cock and doing her slave with it. Even in the scenes that are missing the strap-on sex the slave is getting fucked by a hand held dildo. I think the strap-on fucking is my favorite part of the site. It's very sexy watching a girl do another girl, especially when she's all tied up and her ass is being smacked hard at the same time. They use a variety of cocks too, once again showing their dedication to supplying their models with the best materials.

Fetish clothing is a big part of the site as well. The dommes have a huge collection of outfits to choose from and I get the feeling that some of them bring their own stuff. You'll see some outfits repeated but it's pretty rare. Latex is a very popular choice among the ladies and some of the outfits are quite elaborate. My favorite scene, the one featuring Aiden Starr, had her dressed in black latex boots, latex gloves, a latex corset, latex panties and a latex bra. That much latex probably cost a fortune but it was totally worth it because she looked amazing.

One of the unsung elements of Whipped Ass is the verbal humiliation that is a big part of each scene. Some of the dommes are better at it than others and you'll have to experiment to find the best, but the girls who do it well make their scenes much hotter. I'm sure not everyone is into humiliation content but it's perfectly suited to a site like this. The girls should feel like they're worthless little sluts and that they're only use is for the pleasure of their mistress. You can leave comments for every scene and they're useful for letting the producers know what you liked and want to see more of and what you hated and never want to see again.

Each scene comes with a picture gallery and downloadable videos. Most galleries have high resolution pictures and they're divided into chapters, just like the movies. Pick your chapter and browse the thumbnails, which are also perfectly sized. The videos look great at 1280x720 and they download quickly thanks to fast servers. The final chapter of each video is a post mortem where the models talk about their experience. After you've busted your nut it's fun to watch to see how the girls enjoyed themselves, what they liked best, etc.
Whipped Ass Site Facts
Conclusion 91/100
Whipped Ass is a special site that promises great things and delivers like few others in the genre do. It's all about female domination and there are more than 735 scenes for download with a new addition every week. The videos are typically 55 minutes long and they have such a wide variety of stuff your head will spin. They've divided them into chapters so you can skip over anything you don't like; if you're just into strap-on sex you can download only that and move on to the next scene. If you're a femdom fan there isn't a better site.
Visit Whipped Ass
Categories