Waste Land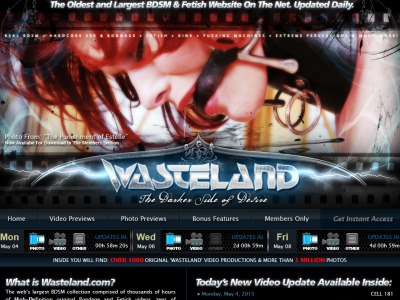 Wasteland is one of the best sites in its genre. If you like BDSM porn and you crave high definition, high quality videos and picture galleries this is the first place you should visit. Women are the subject of the domination here and they take punishment better than most. The abuse is thorough and often painful but they're willing to accept everything that's doled out. Visit the tour for a small taste.
Waste Land: Sex toys are all these two lesbians need to get satisfied
Waste Land Review
6-May-2015
Freetour offers: Wasteland claims to be the web's largest BDSM collection with thousands of hours of video and tens of thousands of high resolution pictures. I don't know if either of those claims is true but I know that the tour offers you a great look at what's inside. It starts with a free preview video that should titillate BDSM fans and it continues with photo previews from many of the most recent updates. Be sure to have a look at the list of subjects they cover; it's long and very impressive.

General impression: From the looks of things you'll find anything and everything bondage related here at Wasteland. The preview video I watched featured a sexy domme in a gorgeous blouse leading her hot female slave around the house for some fun. She smacked her ass and smacked her tits and fingered her pussy and then dressed her like a doll and played with her pussy. That's just the beginning of the collection of porn too so I can't wait to see what else the member's area holds.

Bravo's opinion: Wasteland is a big site and it can be a bit overwhelming when you first log in. The main page lists everything they have to offer and it begins with the movies and games although you can ignore the games because they're pretty silly. The original movies are where you'll find the best content as these have been produced with great care by the geniuses behind the site.

There are a stunning number of options for viewing the movie and the picture gallery that comes with it. First and important is the 720p HD version of the most recent movies. They have a lower resolution clip and a streaming clip as well if you want instant gratification. There are photo galleries too and it's all hot. One of my favorite videos features a beautiful blonde in a wedding dress enjoying a bit of bondage before her big day. It was the first scene I watched and it was a sign of things to come in that almost all the girls that appear in the movies or picture galleries at Wasteland are gorgeous.

In another ridiculously hot scene there's a black chick dressed up as a French maid being used and abused by a dominatrix in a corset and black fishnet stockings. The babe takes command of her slave and uses her for her own sexual pleasure and it's ridiculously hot. She pinches her nipples and plays with her pussy and so much more that should arouse and entice any man into a big boner. Many of the scenes feature female domination with forced pussy eating and fingering and dildo play. There are also hardcore scenes where a guy is in the dominant position and he shows his lady exactly how to treat his hard cock.

In the Wasteland movie theater you can download full length fetish films from major movie studios. These aren't as good as the original content but it's just another reason that the membership fee is such a bargain. They weren't kidding when they called Wasteland the largest BDSM collection on the internet and while I thought they were joking with the thousands of hours of video now I'm not so sure. It looks as though they have a thousand hours of video here especially if you include all the streaming content they've made available. I can't imagine you'd ever run out of video entertainment; there's at least a year's worth of good stuff here, maybe more.

The picture galleries are extensive too. If you visit the original photo galleries you'll see a mind boggling collection of high quality bondage porn. They bring in the models and usually shoot two or three galleries with them just to maximize what they get from the girls. The result is a hot selection of porn featuring all kinds of BDSM action. There are girls being beaten and slapped and tortured in all kinds of ways. There are girls sucking dick while they're collared and on their knees. There's lesbian domination with a hottie forced into bondage and forced to suck dick. There's everything you can imagine outside of men being dominated.

The BDSM content at Wasteland doesn't end with the pictures and videos though. It expands far beyond that and it begins with the erotic fiction. You can read well written, lengthy stories that will tap into your imagination and have your dick as hard as a pole. You should check out the radio play as well. It's a downloadable mp3 featuring naughty BDSM talk and if you're looking for something to turn on your imagination that's the thing to do it. The girls talk dirty and will have you on the edge of your seat with your dick in your hand.

There are webcam shows but you have to pay for those by the minute just like everywhere else on the web. They're good but it's so expensive that it's not really worth the investment. The Wasteland Community is a section of the site where you can write a blog, upload your personal photos, chat with other members that have signed up and much more. It's really interesting and full of amateur content.

If you've ever wanted to learn how to do bondage then you can check out the BDSM 101 section. They'll teach you about rope tying, how to make your own rack (very hot!), the art of Shibari and much more. It's a great resource if you're just getting started in the BDSM world and you want more knowledge. They have a section filled with interviews and film reviews and a little bit of humor if you want some lighter fare after you've busted a nut. It's a great BDSM porn site and a must see for anyone that's hot for this kind of content.
Waste Land Site Facts
Videos
1264 Galleries
1280x720 pixels Windows 2000 Kbps (downloadable)
1280x720 pixels MPEG4 1900 Kbps (downloadable)
720x400 pixels Flash 0 Kbps
Video Captures: Yes
No Download Limit: Yes
DRM: No

Exclusive
Most content is exclusive

Cost
Trial: $4.95 2 days
Monthly: $34.95 1 month
Multi-Mo: $74.95 3 months
Multi-Mo: $134.95 6 months
1 Year: $174.95 12 months (non-recurring)

Billing
Phoenix Group
Credit Card Postal Mail
Conclusion 87/100
Wasteland is one of the best BDSM sites on the planet with an astoundingly large collection of picture galleries and videos just like they promise on the tour. The best movies are the original productions and those are available for download in 720p HD. The picture galleries are huge and they keep growing. They're also high resolution. You'll find that everything is done to the highest standards here at Wasteland. There's even a guide with a list of professional dominas if you're looking to have a woman use and abuse you.
Visit Waste Land
Categories