VideosZ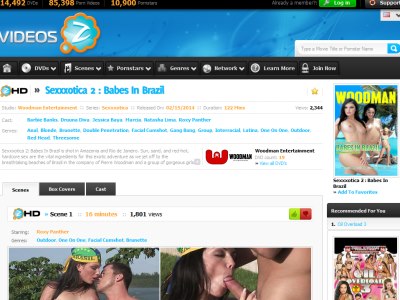 For years, VideosZ has been at the forefront of DVD archive websites. With an archive of over 17,306 DVD titles and 5 new DVDs added every day, it's not hard to figure out why that is. With content from 66 different studios in over 60 different niches, there should be something for everyone inside VideosZ.
VideosZ: Lesbian pussy vibrator play with Vicki Chase and Abby Cross
VideosZ Review
17-February-2016
Freetour offers: The free tour looks fantastic. The design is excellent and very colorful. It's very easy on the eyes. The tour is extremely informative. Across the top of the page, you'll notice a black bar with site statistics such as the number of DVDs currently available and the number of scenes. On the left hand side of the page is a search box which you can use to check if VideosZ has your favorite DVD titles or pornstars. On the main part of the tour page, you'll see a list of today's updates. The great thing about this tour is that you can browse every single DVD in the archive and see a 6 thumbnail image preview for each scene on each DVD. You'll also find out the running time of each individual scene as well as the entire DVD, the names of the performers, the genres the scenes fall into, the date the DVD was added to VideosZ, the studio that produced the DVD and a description. You can also see previews of upcoming DVDs as well as find out what date they're due to be added. You can check which DVDs have been given the highest rating by other members. You can browse the DVDs by niche or by studio. And you can also browse the entire model index.

General impression: I'm impressed! The site has an absolutely massive amount of content available already along with multiple daily updates. And unlike a lot of DVD archive sites out there, it looks like they stick to quality titles instead of just trying to stuff as many DVDs into their archive to make the numbers look better. Without a doubt, VideosZ has one of the largest downloadable DVD archives on the web.

Bravo's opinion:  The design of the member's area is a lot like the tour. In other words, it looks fantastic. I'm normally not that impressed when it comes to member's area designs. Ordinarily, I'm only concerned with the functionality. Aesthetics aren't very important, if you ask me. But this website nails both.

The good thing about this website is that you can see how many scenes are currently available right at the top of the page. Even on the free tour. So be sure to check that information when you browse the tour so you have the latest numbers. Currently, the VideosZ member's area boasted an incredible 17,300+ DVDs containing over 95 thousand scenes amounting to more than 50 terabytes (or 50 thousand gigabytes) of downloadable porn. Good luck getting through all of that.

On the main page, you'll find site news and a user poll along with the day's updates. The site adds 5 new DVDs every day. There's usually 5 or 6 scenes per DVD. On average, there are 29 scenes added each day to the member's area. That's over 200 new scenes per week. I can count with just one hand the number of porn sites offering a similar volume of updates just week.

VideosZ has a cool "personal features" menu. From here, you can access your favorite DVDs, scenes, pornstars and playlists. Every item of content in the member's area can be added to your different favorites categories. Just makes it that much easier to find those scenes you like to watch again and again. I know I have a few myself.

Then there's the DVD menu. From here you can reach new releases, most downloaded DVDs, most downloaded scenes, best rated DVDs, a complete list of the DVDs in the member's area, a link to a random DVD and even previews of upcoming DVDs yet to be added. You can browse the pornstar index by alphabet or as a complete list. The focus is definitely on the female performers. Male performers generally aren't included on the cast lists. But the more popular male names in porn such as Peter North, Ron Jeremy and Shane Diesel are there.

On each DVD's page, you'll find the information about the entire DVD as well as each individual scene. Each scene is depicted with 6 thumbnail images along with information such as run time, performers, genres and a description. Below all this, you'll find the download and streaming options.

The highest quality videos available are encoded using the H.264 codec. The files are MPEG-4 (mp4). These videos are 720 x 540 pixels in size and are encoded at around 2600 kbps. The other downloadable format are AVI files encoded using the DivX codec. These videos measure 640 x 480 pixels and are encoded at around 1600 kbps. The file size of the H.264 videos is about 60% larger than their DivX counterparts. But I think it's worth it. The quality is just that much higher. If you're on a really fast connection, then you can stream also stream the H.264 videos. There's also two flash video streaming options: low and high quality.
VideosZ Site Facts
Conclusion 95/100
What a great website. Of course being DVD content, the videos aren't exclusive.And where else are you going to get access to more than 17,306 DVDs for less than 30 bucks per month? VideosZ is one of the leading DVD archive websites online right now and for good reason. Great membership and incredible value for money. Enjoy!
Visit VideosZ
Categories