Ultimate Surrender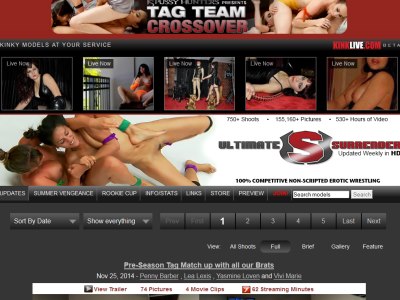 I can say with certainty that Ultimate Surrender is an interesting and unique experience. It's also very well produced with an eye towards quality in every aspect. The girls are hot, the wrestling moves are genuine and the scenes are super naughty with pussies being fingers and tits being groped in the midst of those moves.
Ultimate Surrender: Two luxury and slender chicks are going to do something amazing
Ultimate Surrender Review
27-November-2014
Freetour offers: I'll bet you never thought you'd see a site featuring nude female wrestling. Ultimate Surrender is that site and on the tour they offer you a fair amount of media to get an ample preview of the content inside. There are pictures from each scene and it seems pretty clear to me that these girls are actually wrestling, not just screwing around and then dyking out. This is definitely a niche site but it's worth checking out because it seems very well produced.

General impression: Ultimate Surrender is the very definition of a niche site. I don't think there's a huge demand out there for a female wrestling site that incorporates strap-on sex but I could be wrong. The feeling I get is that they actually fill a need that people didn't know they had. I was skeptical when I first visited the site but now my skepticism is fading as I feel my cock stirring watching these beautiful women grapple with each other in the preview videos. Maybe this is going to be hotter than I ever imagined.

Bravo's opinion:  The folks at Kink.com are the ones behind Ultimate Surrender and I don't know where they come up with ideas for their sites. They do some pretty wild, niche stuff in their San Francisco production offices and I think this one if the farthest out there. I've seen a few sites where they have chicks fighting/wrestling, but never before has a site been this committed to it. Most updates are 40 minutes long and it's not all sexual stuff. There's a ton of actual wrestling going on; in fact, it goes much deeper than you might expect at first glance.

They have tournaments at Ultimate Surrender and they keep detailed stats of each girl's matches during each season. A season seems to run roughly 11 months and at the end they award the champions in three weight classes. Visit the page for each season and you can see statistics for each model. Stats include her win/loss record, how many style, shame and toughness points she's earned (those are awarded by judges at the end of a fight) and her overall win/loss record. This is not your average adult site, that much is certain.

No amount of record keeping can make a site worthy of your money if it's crappy. The question is whether or not Ultimate Surrender is good enough to keep your $30 per month. It's impossible to say whether or not you're going to like the content, but I can say that it's very well produced so you won't feel cheated. There are just over 704 episodes in HD in the member's area and the structure of each scene has been the same from the start. The girls wrestle, a winner is determined and the loser is subjected to a strap-on fucking.

Let's begin with the wrestling. I can't say that you're going to be turned on by watching two topless women grapple if the idea doesn't appeal to you. I would say you should at least watch a few preview videos and see what it does for you. The majority of the models have hot bodies and they're all fairly athletic so watching them writhe about on the mat is at least a little sexy. They execute real wrestling moves too and I'll bet they have a teacher on set to give them tips before the scene begins.

Each wrestling match begins with the girls in a thong and nothing more. Somewhere along the way they lose those thongs and at that point the match typically turns sexual. Sometimes it's as simple as a finger or hand sliding into a pussy and sometimes it's a little more overt with one girl sitting on the face of the other. Sometimes you'll see a tongue dart out and lick a pussy or an asshole. I guess these girls are so used to fucking that they just can't help themselves. There are times where they take a brief break from the wrestling to finger each other or have a quick sixty nine.

When the wrestling match is over they declare a winner and she gets the privilege of fucking the loser with a strap-on cock. The sex is very rough with lots of slapping, verbal abuse and pounding. I would guess that the girl being fucked isn't enjoying herself as much as she's accepting the punishment she agreed to before the scene began. They fuck right on the wrestling mat so there's a lot space for the camera to roam and capture the action. It's high quality dominant sex and for my money it's the best part of the site.

Every so often they have a tag team match and these are far and away my favorite part of the site. A recent update featured a tag team starring Alex von Tess, Amber Rayne, Sarah Jane Ceylon and Gina Caruso. They stuck to actual tag team rules for most of the scene – two girls wrestling and you can tag in your partner if you get tired – but there were times when it was two on one and when all four were wrestling. When it was two on one things typically got pretty sexual; there was even some tasty pussy eating. I like the tag teams most of all because you get two chicks strap-on fucking two other chicks in the end. That's seriously hot stuff.

They segregate each scene at Ultimate Surrender into chapters. There aren't many logical break points in a wrestling scene but you'll find that the tone changes in each. First the girls are going at it roughly and trying their best to badger each other. In the second chapter they're both getting turned on and they can't keep their hands off each other's tits. In the third chapter they're going for the pussy in an attempt to win the fight and pleasure each other. The fourth chapter is all about the strap-on fucking and the post match interview with each combatant.
Ultimate Surrender Site Facts
Pictures
704 Galleries
No Watermarks: Yes

Videos
704 Galleries
1280x720 pixels Windows 1600 Kbps (downloadable)
1280x720 pixels Flash 0 Kbps
1280x720 pixels MPEG4 5000 Kbps (downloadable)
No Download Limit: Yes
DRM: No

Exclusive
All content is exclusive

Cost
Monthly: $29.94 1 month
Multi-Mo: $59.94 3 months
Multi-Mo: $67.94 6 months
1 Year: $169.95 12 months (non-recurring)

Billing
DHD Media
Credit Card Online Check, Postal Mail
Conclusion 89/100
Ultimate Surrender is a really cool site. At first I was skeptical that a site about naked wrestling could turn me on but I found myself aroused while watching these hot chicks put moves on each other and throw down powerfully. The fact that they work sexual elements into most scenes also helps. And of course nothing beats the hot strap-on fucking that finishes each match. A good pussy pounding is all a hot slut needs to remind her of her place and her losing status.
Visit Ultimate Surrender
Categories