TS Seduction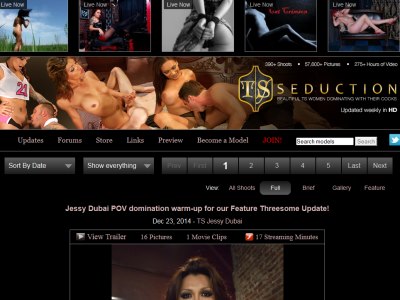 TS Seduction blows away the competition in the shemale domination niche. It's also better than any site that has shemales-fuck-guys content. The transsexual models are beautiful and well hung, the guys are eager to suck dick and get fucked and the videos are beautifully high resolution. Fans of the niche will go wild for the hardcore scenes.
TS Seduction: Fetish session with a shemale and a ball bondage
TS Seduction Review
26-December-2014
Freetour offers: There are bunches of content sets at TS Seduction and they've made it pretty easy to get an idea of what you'll see as a member. There are 10-13 images from each set, a description and a preview trailer. The trailers are pretty high resolution too so you really should download one or two to get an idea of what the action looks like on screen. I found that reading the descriptions was fun as well. They're pretty good at setting the tone for each scene.

General impression: I'm impressed that they're so generous on the tour. To me that means they're supremely confident in what lies inside the member's area and they know that you're going to love what they have to offer. Also, there are very few shemale domination sites on the web and that's the general theme here. It's always nice to see something fresh. I've watched a number of the preview videos and I'm ready and excited to get inside and see if they follow through on the obvious promise of the tour.

Bravo's opinion:  The niche is shemale domination, or shemales fucking men. Some of the scenes delve into light bondage but it's a minor divergence at best, not a central theme. If you want a simple analysis I'd say that if you like watching shemales fuck guys then you'll get a ton of value out of a membership to TS Seduction. I've seen only one scene where the guy fucks his shemale domme so it's exceedingly rare.

The most important element of a shemale site is the models. If they're high quality hotties then everything else falls into place easily. If they're ugly dogs then the rest of the site has to be amazing to make up for that fact. With the exception of a few outliers the shemales at TS Seduction are phenomenal. It's a nice sampling from across the tranny world. There are the thicker chicks with big asses, curvy bodies and big tits. Then you have those who look even more like women with tiny waists, flared hips and big fake tits. Finally there are a few hotties that have gone the natural route and I presume they get their A and B cup tits through the use of hormones. Their dicks still work though and that's all that matters.

Most scenes at TS Seduction are 40 minutes long thanks to an adventurous spirit on the part of both participants, there are 345 videos plot development in some of the scenes and a dedication to quality on the part of production staff. A recent scene starring the lovely La Cherry Spice ran 49 minutes and featured the heaviest BDSM action you're going to see on the site. The tranny tied her slave's hands together and hooked them to a bar in the ceiling. With him stretched she whipped his back, played with his cock, pulled on his armpit hair, etc. He was hard the entire time, which is impressive all things considered.

They also pursue plot for many of the scenes at TS Seduction. Some scenes have a full on setup, such as my favorite in which a young man goes to a hypno-therapist for stress treatment. She hypnotizes him and then takes advantage of his sedated state by fucking him. All the while she stays in character, talking about how he's only stressed because he hasn't gotten fucked like he needs. Another scene begins in the office break room as two employees get coffee and chat. They agree to go in the basement to fool around where no one can hear them and she ends up being a tranny with a cock destined for his asshole. It's a thin plot, to be sure, but it still makes the scene hotter than it would have been otherwise.

The verbal element is significant. The trouble with so many tranny sites is that the stars speak Spanish and if you're an English speaker you lose out on the verbal barbs being thrown. Part of the kink at TS Seduction is the humiliation of the submissive males. They're being dominated by these women even if they're not being subjected to painful bondage and abuse. Part of that domination is verbal and making the guy feel like he's lower than her. Many of the shemale dommes are very skillful at this and it adds so much to a scene.

Another mistake many transsexual sites make is hiring male actors who can't take a dick up the ass. It sounds insane but it's a bigger problem than you might imagine. When that's the case you end up having sex where the shemale gets a few inches of her dick into the guy and that's pretty much it or she fits it all the way inside but can't really do any thrusting. The entertainment is all in the thrusting. Luckily they have an impeccable casting process at TS Seduction and they haven't run into any problems on that front. The guys are all excellent at getting fucked.

There are usually three distinct parts to each scene. In the first there's the plot development and the opening bondage/abuse/fooling around. Sometimes the guy gets spanked, sometimes the tranny plays with his cock and sometimes he just licks her boots. The second part is dedicated to oral sex and I was consistently surprised at how good these guys were at sucking dick. Most could take the full shemale cock and we're talking about 7-8 inches of meat in some cases. Finally there's the hardcore fucking. They usually screw for 5-10 minutes and every position is used. Most end with a facial cumshot too, which is another rarity.

They have smartly segmented those parts of the scene in the video download section. You choose only what you want to see. If you want to download the entire scene they provide a zip file with all the chopped up parts. They also have two interviews with each episode. The first one is a meet and greet with the models where they talk about their expectations and desires. The second is a post-mortem where they talk about what they liked best, whether they'd like to do it again, etc.
TS Seduction Site Facts
Conclusion 85/100
TS Seduction is the best shemales fucking guys site I have ever reviewed. Everything they do is excellent. Each scene features dom/sub action, shemale cocksucking and hardcore ass fucking. The guys can take a cock deep and they seem to be truly excited to do so. Updates are made once a week. This site goes beyond money well spent. For fans of shemales-fuck-guys content it's a must buy.
Visit TS Seduction
Categories