The Training of O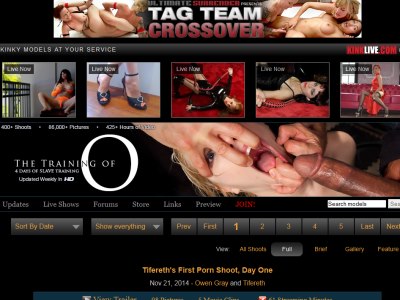 The Training of O will blow your mind if you have even a passing interesting in hardcore bondage. The models are smoking hot, the premise is fantastic and the execution is flawless. The bondage is excellent and the pain is real and fantastically arousing. It doesn't hold a candle to the rough sex though.
The Training of O: Two tied up hotties get fingered and fucked in a dungeon
The Training of O Review
27-November-2014
Freetour offers: Generous is a good word to use when describing the tour. They freely give away media from each of their updates. They also provide a training report for each, which is fitting with the site's theme of training hot chicks to become proper slut slaves. When the scene is completed the girls happily open wide when commanded and will let you fuck them in any position.

General impression: Bondage sites are great and hardcore bondage sites are even better. A genuine slave training site (as genuine as something like this can be at least) is rare and so far it has proven to be incredibly hot. The training reports, which includes recommendations from the masters on how best to turn the girls into slaves are good reading and if you treat yourself to a few of them I think you'll find that they're remarkably sexy. I know that I'm really looking forward to hitting up the member's area and checking everything out.

Bravo's opinion:  The Training of O is another unique site from the folks at Kink.com. This one is about slave training, which isn't all that unusual, but they go so much farther than what's typical. The conceit of the site is that each girl gets four days of slave training. Each day is one update and they mix in the girls so you're not stuck with the same babe for a month if you don't like her. There are different goals for each training session with the ultimate goal being to break the girl down completely so she emerges as the ultimate willing slut.

You whip out your cock and your new slave will open her mouth automatically and look up, begging you to fill her mouth with dick so she can feel like she's serving her master properly. I can't imagine how much money someone would pay for an actual service like that but since it would be cruel to actually send your woman to such an institute you can live vicariously through The Training of O. You don't even have to be hot for a sex slave; you can simply enjoy watching hardcore bondage videos.

There are 349 videos now. With each scene there's a video and a picture gallery. Most movies are 55 minutes long which means before it's all over you'll spend roughly 5 hours with each model. She'll feel like your best friend or your own personal sex slave. Who knows, you may come away with interesting ideas on working bondage and slave training into your own kinky sex life. Before you watch any of the videos you should read the training report. It lays out what the master hopes to accomplish that day and how he plans to accomplish it.

I like that they're so committed to the site and it's content that they don't even allow you to question whether this is actually happening. Not once during each scene do they break character and pull you out of your immersion. If you're committed to going on a hardcore journey with them they're going to make sure you have a good time. If you're going to sign up for a membership you'll get the most value if you commit to appreciating the site as they intended. Go ahead and pretend that it's your girlfriend you've given over for slave training.

Variety is the spice of life and they're well aware of that at The Training of O. They take great care to not repeat themselves often as that would quickly become boring. If every girl underwent the same training session sooner or later people would bow out of their membership. Keeping things fresh is the best way to keep me coming back month after month. Bondage plays a big part in these sessions, with most of the girls ending up tied up or in a bondage device of some sort. They're always tying the girls in different positions, some of which are mind boggling. The suspensions are particularly impressive.

They also have a small selection of bondage devices that help to restrain a chick when they're trying to position her for a fuck. Cuffs are a pretty big deal and they've got this heavy box they put on some of the girls to make them feel as low as possible. It's thoroughly degrading, which plays a big part in the training of the slave sluts. You have to break a girl down before you can begin building her back up in your image. Water is also occasionally used as a breakdown technique. There's no better way to turn a girl into a begging mess than to attempt to drown her.

Hardcore sex plays a big part in the Training of O, obviously. These girls are all being turned into sex slaves after all; they need to be trained in the art of accepting cock in any hole at any time. Blowjobs are important because the girls have to learn how to deepthroat or at the very least keep their gagging to a minimum. Anal sex is important because some girls can't take a cock in the ass efficiently and their men don't want to have to loosen them up. The pussy is just fun to fuck and they like to bone the girls in as many positions as possible.

I was surprised at how hot the models were. You see some bondage sites where the girls are absolutely wretched looking and you assume that's because the hotties aren't willing to subject themselves to such pain. You see the Training of O and you realize that either those sites aren't paying very well or they simply don't make the girls feel safe. Kink.com has a legendary reputation in the industry and that must lead to women trusting them. That trust leads to some of the foxiest chicks in the business volunteering to be fucked.
The Training of O Site Facts
Pictures
349 Galleries
ZIP Files: Yes

Videos
349 Galleries
1280x720 pixels Windows 1600 Kbps (downloadable)
1280x720 pixels Flash 0 Kbps
1280x720 pixels MPEG4 5000 Kbps (downloadable)
No Download Limit: Yes
DRM: No

Exclusive
All content is exclusive

Cost
Monthly: $29.95 1 month
Multi-Mo: $59.95 3 month
Multi-Mo: $97.95 6 month (non-recurring)
1 Year: $169.95 12 months (non-recurring)

Billing
DHD Media
Credit Card Online Check, Postal Mail
Conclusion 88/100
The Training of O is the best slave training, bondage sex site I've had the privilege of reviewing. The premise is remarkable, with men turning their girlfriend/wives over to the trainers to have them turned into obedient slave sluts. The girls are then subjected to four days (which are turned into four separate updates) of intense training and they emerge as willing sluts. The content is presented in video and there are picture galleries to help you warm up while you wait for the video to download. The female models are incredibly hot, the pain they experience during training is genuine and the sex is very hot. For bondage sex fans this is a must see.
Visit The Training of O
Categories