Rip Her Up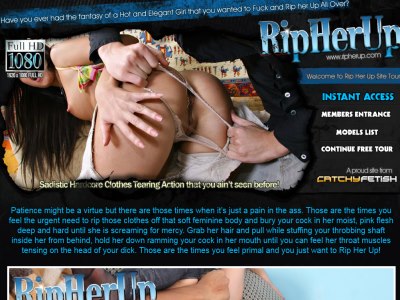 Rip Her Up is definitely not a site for the faint of heart as the episodes are anything but sensual. On the hardcore spectrum of porn scenes the ones on this site fall under the "hold on to your fucking balls" category. You'll see the horny ladies get choked, fish hooked, and basically having a rough time. Just don't say you weren't warned.
Rip Her Up: Fine-looking blonde gets the aggressive penetration from her partner
Rip Her Up Review
2-December-2014
Personally I like more sensual sex, or maybe even a little rough, but the content on this site really raises the bar and personally I found them a little too brutal for my liking. But hey that's just my opinion on things, so don't let my comment have you thinking twice about joining this site because I am sure those of you who love this brutal kind of porn will absoloutely eat up the scenes! But as I said you can expect to see some rough handling of the beautiful models on this site, and sometimes you can't help but feel a little sorry for them but by the looks of it they absoloutely get off to being treated like this so it's all good!

There's very little to know dialog to start things off as it is a hardcore site after all. The horny individuals get straight in to things and the action usually starts of quite heated as you can expect to see some of the girls enduring some ridiculously brutal face fuckings! From there on out the scenes go through the usual motions you would expect from a hardcore scene including pussy and a generous amount of anal drillings. Needless to say you'll also see the girls get strangled, get their pretty faces stepped on, get some nasty ass to mouth action, and basically get man handled by the incredibly horny and kinky dudes. The bulk of the content involves guy on girl romps with a few MMF threesome thrown in for good measure.

Rip Her Up was first launched late 6 year on the 14th of November 2008, the site launched with 14 pioneer episodes to start things off and since then has been updating with up to 1-2 episodes per month, their update schedules aren't very stable but they get at least one episode uploaded every month. This doesn't seem like an impressive effort but I'll give credit to the site for providing exclusive content which basically means you won't be finding this content anywhere else on the net. In total there are 54 episodes complete with video and photo content which are of decent quality. The last update occurred 11 days prior to this review so it looks as though the site is still active on updates, or at least I hope as there's no evident information on this issue.

The videos on offer run for roughly 30 minutes each and can be downloaded with no drm or streamed straight off the site. The downloadable versions have been encoded in both MPEG and MP4 formats. The full HD video are on the top of the quality ladder with an impressive encoding rate of 5000kbps and a fairly good resolution of 1920x1280. There's definitely room for growth in the resolution department but thanks to the high kbps rate members can still enjoy high quality if they were to watch the episodes in full screens. Now the mp4s are significantly lower in encoding rate though they were specifically designed to be played on iPods and PSPs. This particular version clocks in at 600kbps with a resolution of 320x240. The streamable flash version is quite high in quality at 1200kbps @ 640x480. All in all the quality of the videos is quite decent, I wouldn't say they're superb but they are definitely a good watch.

All the episodes come complete with photo content, the photo content pretty much follows the action of the videos with the only difference being that the start of the galleries usually have a few softcore shots where the ladies show off their goods before the real action starts. The clarity is fairly decent though I feel it could have been higher as there are a few sets where you can make out the graininess. Colors are fairly rich too but like the clarity it's nothing too special. Members can either view the pictures straight off the site or download the entire sets in a zip file to view offline, the galleries usually come with roughly 400 pictures each which can get up to 1024x685 pixels in size. Overall they nicely complement the video content and like the videos they aren't ground breaking in quality but they are certainly decent.

The developers obviously knew that members aren't going to be content with the current size of the episode archive and may find themselves running low on content before new updates arrive. Good news is that all members who join this site are granted free access to the entire network which Rip Her Up is a part of. Including Rip Her Up the network consists of 8 sites, each site provides exclusive content which is on par in quality with the stuff available on this site and knowing that each site covers a different category it goes without saying that members will be in for quite the diverse buffet of steamy smut, and like this site most of the bonus sites are being constantly updated so even though Rip Her Up may not be huge as a stand-alone site, members do get access to quite a bit of porn as a whole.
Rip Her Up Site Facts
Pictures
54 Galleries
High Resolution: Yes
ZIP Files: Yes

Videos
54 Galleries
640x480 pixels Flash 0 Kbps
320x240 pixels iPod/PSP 800 Kbps (downloadable)
640x480 pixels MPEG 3200 Kbps (downloadable)
1920x1280 pixels Windows 5000 Kbps (downloadable)
Full Scenes: Yes
Multi-Bandwidth: Yes
No Download Limit: Yes
DRM: No

Exclusive
All content is exclusive

Cost
Monthly: $29.95 30 day
Multi-Mo: $59.95 90 days
Multi-Mo: $99.95 180 days

Billing
CCBill, Epoch, SegPay, Zombaio
Credit Card 900 #, Cell Phone
Conclusion 87/100
The main thing which stands out on this site is how crazy the hardcore scenes are, so to those of you who love watching rough sex you will certainly love the episodes available on this site. Other aspects of the site are above average including the quality and even though the archive isn't huge just yet, the updates do roll in at a nice rate. Overall I feel the site just needs more time to become a must see site, there is some room for improvement quality wise but both the videos and pictures are very decent as they are.
Visit Rip Her Up
Categories