Real Girls Gone Bad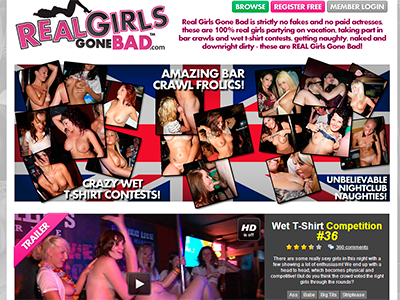 The night is young and so are the girls you will see at RealGirlsGoneBad! Hot, unashamed gals go out at night, get drunk and have the need to get wild and show off their tits and asses. Wet T-shirt contests and public nudity with plenty of alcohol flowing on the side is the order of the day.
Real Girls Gone Bad: Voluptuous babes going wild at the craziest party!
Real Girls Gone Bad Review
6-November-2012
For those of you who prefer real natural amateur girls doing all kinds of crazy shit and don't giving a fuck, RealGirlsGoneBad is up for review today. True amateurs letting go of their inhibitions, losing control and putting on a genuinely sexy show, what's better than that? If that's what you're into then this brand new site will be right up your alley. The free tour makes you feel like you're right there in the audience seeing all those barely naked girls, with their wet t-shirts, making out with other girls and getting their pussies wet in the process. The tour is eye catchy and I said before it gives you that crazy party feel. The best thing is that you will get to see a bunch of trailers and photos that will keep you glued to the screen from the beginning to the end.

Once inside you will see that the tour looks very similar to the member's area, the good thing is that now you'll be able to watch all videos without restriction! The site's layout is modest and simple. You will find all videos displayed along the home page, there aren't any links that take you to the video and photo section; once you choose the video you wanna watch you have the pics gallery right there. The navigation here is good even if there aren't really not enough video and photo viewing options for you to take advantage of. Mind you, this isn't helped by the fact that there is only streaming on the videos. Model indexes are absent, but actually not needed on a site such as this anyway. To filter your search, you can order videos by most recent, oldest and most popular. The update information was non-existent, however, and it is actually pretty difficult to know what has recently been added to the site, but they promise twice weekly updates, so for now there's no reason not to believe them. You can rate content, sort by the combined user ratings, leave comments and shoots are labeled with keyword tags.

There are currently 60 videos and 72 photo galleries. There are no download options whatsoever, so steaming is your only option to check out these crazy British girls who love to party all night long. You can watch videos in a Flash player playing at 4000kbps 1280x720 or if you want HD off videos play at 960x540. You'll see wet T-shirt contests get rather out of hand with full-on nudity, lesbian experimentation and even some public blowjobs.

Photos look awesome but unfortunately you can't download any of them. They appear in an embedded slideshow with an adjustable viewing speed and the right-click option has been disabled. Photo sizes tend to vary a fair bit from gallery to gallery from what I saw of the site, but in terms of resolution there aren't any complains, pictures look crystal clear!
Real Girls Gone Bad Site Facts
Conclusion 81/100
RealGirlsGoneBad is a lot of fun and entertaining! If wet t-shirts and crazy drunk girls make you horny then this site will definitely appeal to you! Real girls probe they can get very naughty after some drinks and thank god for that! There aren't download options but the quality is HD and the photos look perfect. The videos are sexy and you will feel that you're actually in the disco partying with these chicks. The negatives: no bonuses and unclear update schedule.
Visit Real Girls Gone Bad
Categories