Public Pick Ups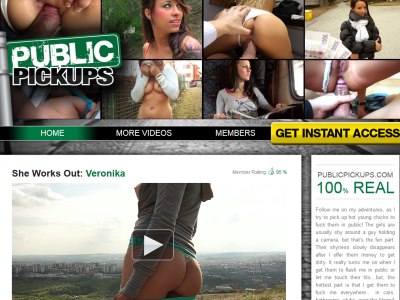 The girls you will see at Public Pickups are so easy that you can pick them up in the street, offer them some cash and they will do absolutely anything you ask them to do. The best thing is that you will find smoking hot girls everywhere you look, and for a bit of cash they will show you their tits, they will suck your cock and even let you fuck them.
Public Pick Ups: Angelina is a petite brunette who will fuck a man for some cash
Public Pick Ups Review
27-July-2015
This brand new site is part of the famous Mofos family and it's their take on the whole pick up in the street, fuck for money deal. The guys always succeed in their approach, the girls can't make ends meet and they need some cash, so they think, what the hell… let's fuck for money! The site has its action set in the Czech Republic, with hot girls approached in the streets or in indoor public areas like libraries, trains etc. Paid to flash tits or ass, and then ultimately fucked right there. From what it can be seen in the preview videos offered on free tour, the action is thrilling and full of adrenaline. The tour looks awesome, with lots of pictures and descriptions about some of the pickups.

Upon logging in you will find a very organized site, it's well lit and easy on the eyes. It kinda blends the fun and thrilling feeling of public sex. There's a top menu bar that lets you navigate through the whole site, it's separated into videos, girls, bonus channel and special deals. Last updates and upcoming videos can be seen on the home page as well as top rated videos. You can filter your search by girls, top rated and most viewed. The bonus channel offers a bunch of networks that provide you with a wide variety of hot content, just click on the bonus channel link.

There are currently 96 videos, you can filter your search by choosing ascending or descending order, by date, and with or no description. Videos can be streamed or downloaded. As far as streaming is concerned you can choose the between different quality settings, such as, medium, high and HD.

There's always the same guy holding the camera, the lucky bastard's name is Steve. He chooses random hot-looking Czech girls in the streets, libraries, on trains, talks them into showing their attributes, and fucks the shit out of them. They are reluctant at first and some videos actually feature girls telling Steve to fuck off. But you know, he offers them some cash and they through inhibitions to the garvage. They're not too particular about choosing places, though. You'll see them fucking in a gym with other guys working out just nearby, or in a park full of people, or on a train flashing gems out of the window, or in a car in a parking lot.
Public Pick Ups Site Facts
Conclusion 87/100
PublicPickups is a brand new site full adrenaline, hardcore public sex and smoking hot Czech girls. The videos look amazing, the action is hot, as long as they can get the cash they will do anything. There are lots of bonuses for you to check out, the site is ambitious, it's growing every week and the videos are both fun and exciting to watch. Not to mention that as soon as the sex starts you will get horny for sure! So, if you're into exhibitionism, public sex and Czech girls, cum inside and give it a try!
Visit Public Pick Ups
Categories