Public Agent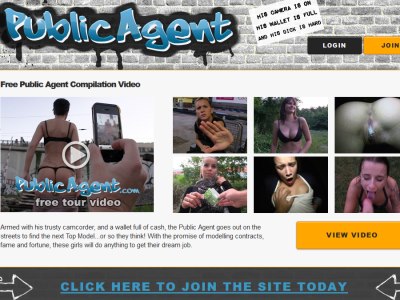 Public Agent is centered on the misdeeds of this dude who walks around town offering girls money for modeling jobs which do not exist and ending up fucking them hard right there. Random girls from Czech Republic getting naked for money, wanna see?
Public Agent: Kinky siren Meggie will give anything to get that huge cock
Public Agent Review
27-July-2015
Hot Czech girls at Public Agent are mostly minding their own business waiting for the bus or train when this guy comes up with his camera: some flirting, some money, and soon the girl is flaunting her tits and body, agreeing to sucking his thick dick while he keeps a lookout for cars or people walking by, and then letting him fuck her once the price is up over a thousand dollars. Check out the main video trailer and episode trailers in the free tour and you'll want to see everything for real right away.

The saying 'There's nothing that money can't buy' applies very well to this site where next door girls open their legs and mouths for money. His camera is on, his wallet is full and his dick is hard, that's what says in the members' area which looks simple and user-friendly with a link to bonuses, friend sites, favorites and two drop down menus, where you can filter your search by model and by agent. You can also go through the list videos along the page, which one assumes is from newest to oldest and across various pages. All videos are displayed along the homepage; there are a total of 279 videos.

There aren't any photo sets, but there are 279 videos that can be streamed in a Flash player in good quality. You have to option to download the flicks to save them in your computer in MPEG4 format playing at 5000kbps 1920x1080, and in WMV format playing at 5000kbps 1280x720.

There is a lot of talking and flirting, and a lot of "why are you filming me" questions. The silver tongue of the host of this site soothes them, though, and slowly but surely they are convinced he is an agent and that he will pay them for a shot of their naked tits, or to see them in their underwear. Sometimes they agree and will go off in the bushes or an alley to show him what was promised; other times they disappear back into a hotel room. Of course, once the line has been crossed more money greases the wheels for more sex: POV blowjobs, hardcore fucking, and usually a messy cumshot.
Public Agent Site Facts
Conclusion 86/100
Public agent offers entertaining porn, where videos are shot under completely real circumstances, with passers by, random cars, noises and all the thrills you may need. Also, the sex is crazy hot and the girls don't mind to show a little skin and reveal their slutty side for some money, not big deal right? There's a decent amount of videos to enjoy but it's a bummer that there are no update dates to have an idea of what the schedule looks like.
Visit Public Agent
Categories