Porn Films 3D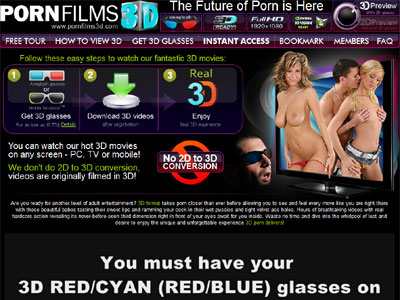 A few major 3D releases in mainstream cinema has seen a huge boost in popularity and demand for 3D porn. Sites like Porn Films 3D has stepped up to the plate, offering high quality hardcore fucking in three dimensions and lots more.
Porn Films 3D: Astonishing brunette in stockings gets facialed after a hard fucking
Porn Films 3D Review
4-June-2011
Porn Films 3D is a new site, launched at the end of 2010 with to deliver true 3D hardcore sex to porn surfers. The demand for this sort of action has been gaining major momentum and of the few sites operating in this niche, this site turned out to be one of the better ones. Unlike many of the other sites, Porn Films 3D doesn't convert 2D (standard) movies to 3D with software, they film the original hardcore with 3D cameras. This does make a rather big difference in quality. You won't need to be a tech genius to tell!

The other thing they do that most others don't is put their 3D movies into full high definition media formats. Each of the scenes here can be saved in 1080p HD Windows Media files that have an amazing playback. The 3D images are crystal clear! You can also find large MP4 file downloads or stream movies instantly online in a Flash video player that is embedded directly into the members area.

Each scene averaged about 30-minutes from start to finish and featured European porn actresses. These are very sexy ladies with slim and healthy bodies, natural plump breasts and a willingness to do just about anything in the sack. They will suck on cock until gagging, be fucked in every position, even let their men ass fuck them, or fuck multiple men at once. You can watch the movies in the 3D format that is the site's main offer, as well as download them in standard 2D formats.

To see the 3D movies how they are supposed to look means you will need to get the right glasses. You need either Anaglyph glasses (the red/blue lenses) or Shutter Glasses (offered by nvidia graphics). The site has a nice description of each, what to look for, how they work, and links to places where you can buy them cheap. While you're waiting for them to arrive in the mail you can watch the 2D versions of the movies.

There were 44 total scenes at Porn Films 3D, and each also came with a high resolution gallery of photos. The images are large and look fantastic. You can browse through them online or save them in easy to grab zip files. No updates have been made to the galleries or movies in the past two months at the time of my visit. There were some bonuses included with a membership, though. You have access to feeds from Back Seat Suck and Fuck, Couple Fucks Teens and a few other channels.
Porn Films 3D Site Facts
Conclusion 76/100
Porn Films 3D needs to keep growing but their 3D hardcore movies look fantastic. The large 1080p HD downloads were awesome, the girls were hot and the action was intense. I was disappointed in the recent drop in updates but the site was still worthwhile for anyone seeking real 3D porn.
Visit Porn Films 3D
Categories