Men In Pain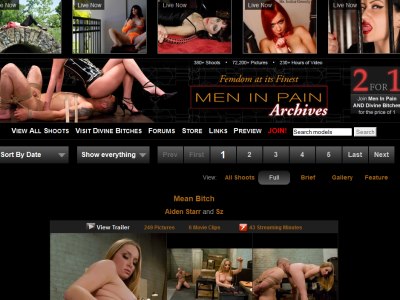 Men in Pain is my favorite female domination site, at least of those that involve dudes. The women are incredible dommes and they seem totally comfortable whipping some guy's ass and calling him a worthless slut. They also love to strap-on on a plastic cock and fuck the dude mercilessly. All that and everything else pointed out in the review equals a quality investment for femdom fans.
Men In Pain: A mistress punishes her man then fucks him in the ass
Men In Pain Review
27-November-2014
Freetour offers: This is a wonderful tour. They don't have any video previews but they offer so many pictures that you'll know exactly what you're getting should you decide to join. For most scenes there are preview pictures and a description as well as the name of the performers and the length of the scene. There's no way you can go into this site with your eyes closed.

General impression: Men in Pain is a female domination site where the ladies treat the men like submissive slaves and inflict substantial amounts of pain and suffering on them. After browsing the tour I'm convinced that I'm going to have a great time in the member's area because everything is so high quality. If a site is willing to share this much with potential members you know they're confident in the final product. If they believe it's great then I'm going to give them the benefit of the doubt. Let's see if that pays off.

Bravo's opinion:  Despite the number of submissive men in the world there are surprisingly few sites dedicated to female domination of males. Is it hard to find guys that are willing to act in scenes like these? Is it that submissive men aren't willing to admit that they get off on this kind of abusive content? Whatever the reason the genre has its savior in Men in Pain. They incorporate all elements of female domination into the site so if you're only into men in bondage or guys getting fucked by strap-on cocks you'll still find a membership totally worth the dollars.

The content at Men in Pain begins and ends with the female models they bring in to dominate the guys. If she's not comfortable with it or she's not willing to commit to truly punishing the submissive slave then the scene is going to fall flat. If she's into domination and gets off on abusing guys and showing them their place then it's going to be a thrill for all of us. I've also found that the verbal aspect of these scenes plays a big part in my enjoyment. If the domme is good at verbal humiliation and doesn't oversell it then the scene becomes even more enjoyable.

There were a few scenes that I couldn't stand because the female was so over the top. She was screaming at the top of her lungs as she whipped the guy or fucked him with a strap-on and it comes across as false and it pretty much kills any arousal I had going. The dommes who are more subtle in their approach are the ones that turn me on the most, but I'll allow that it may work differently for other people. Because of that I applaud them for having a little bit of everything. With more than 389 scenes you'll have plenty to choose from and if you ever happen to run through them all they add another every week.

Men in Pain first launched in 2003 and over the years they've made a great many changes to the site to accommodate all tastes. In the beginning it was mostly a bondage site with the guy taking serious abuse. When the scenes were over he would be exhausted from processing so much pain and his body would be riddled with red marks from the repeated whippings. The great thing is they haven't removed that part of each scene, they've just made them longer to fit everything else in.

Several months after the site's launch strap-on sex became a regular part of each scene. Nowadays it's in the vast majority of the updates and the scenes that don't have it usually have a good reason for that being the case. One instance is the recent scene that was dedicated to emulating a cuckolding. A sexy wife tied her husband to the leather chair in their bedroom and then brought in her lover to fuck while her husband was forced to watch. You might not necessarily be into cuckolding but those that are will find the scene to be immensely satisfying as it's very well done, including an excellent verbal element.

Each scene begins with an interview phase where the two models chat about what they're expecting and what they hope happens during the scene. Although they put that up front I recommend you skip over it until the end. It's better to have a consistent theme throughout and watching them be buddy-buddy before they move into a dom/sub relationship can ruin the illusion a little. After the interview they begin the scene and the bondage is always first. You'll see guys tied up, whipped, beaten with paddles and riding crops and suspended via rope. You'll also see cock and ball torture and the occasional nipple torture with the use of clothes pin and alligator clips. In most scenes the guys cock and balls are tied up until they turn blue.

Forced pussy or ass eating is typically a part of every scene. It fits in nicely with the humiliation theme of the content and it's during those parts of each scene that the most skilled dommes let loose a torrent of arousing verbal humiliation. After the eating you typically see the strap-on sex. I really like that part of each scene, but I wish they would confirm that the guys can actually take a dick up the ass before hiring them. Some can't receive more than a few inches and it seems pointless. Recently they've started having the guys fucked the dommes and while I understand that they're trying to satisfy all their customers I just don't see how it has any place at a female domination site.

One of the smartest things about Men in Pain is the way they segregate the content. Each movie has been divided into chapters with each chapter having a different theme. I usually skip over the chapter where the guy fucks the girl and goes right for the pussy eating or the strap-on fucking. It's brilliant of them to allow such flexibility. There's also an interview at the end of each scene where they talk about their favorite parts and whether they'd want to do it again, etc. The 389+ videos are in HD now (1600kbp 1280x720) and they look fabulous.
Men In Pain Site Facts
Pictures
389 Galleries
ZIP Files: Yes

Videos
389 Galleries
852x480 pixels Real 900 Kbps (downloadable)
1280x720 pixels Windows 1600 Kbps (downloadable)
1280x720 pixels MPEG4 1600 Kbps (downloadable)
No Download Limit: Yes
DRM: No

Exclusive
All content is exclusive

Cost
Monthly: $29.95 1 month
Multi-Mo: $59.95 3 months
Multi-Mo: $97.95 6 months
1 Year: $169.95 12 months (non-recurring)

Billing
DHD Media, Epoch
Credit Card Online Check, Postal Mail
Conclusion 87/100
Men in Pain is the consummate female domination site and if you're a fan of the genre it's practically a must that you join. I promise you won't find a better femdom collection anywhere on the web. Most scenes are 40 minutes long and they include a little bit of everything. There's bondage, forced pussy and ass eating, strap-on fucking and in some scenes the guys get to fuck the chicks, or at least lie there while the chick rides their cock. On top of all that they have a bevy of notable models, all of whom are incredibly hot and adept at domination.
Visit Men In Pain
Categories