Hog Tied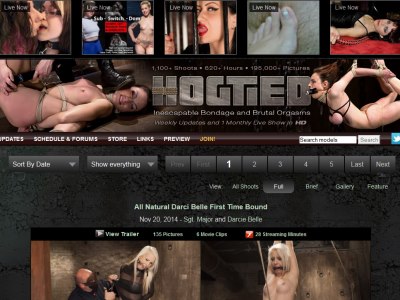 Hogtied is as good as it gets in the rope bondage genre. If you dig on hot chicks getting tied up and abused in a variety of sexy ways then you're going to dig on this site. There are intricate ties, suspensions and forced orgasms in addition to the occasional scene featuring strap-on fucking. It's all pretty amazing.
Hog Tied: Chubby brunette slut Gabriella Paltrova ass abused in hardcore bondage
Hog Tied Review
27-November-2014
Freetour offers: One way to know whether an adult site is of a high quality is to check the tour and see how much they're willing to share with you. At Hogtied they share just about everything. When you visit the site you'll see 10-15 small pictures from every update they've ever done along with a description of the action that's well written and does a terrific job of setting the scene. The pictures generally show all the elements of the bondage scene and the different positions the girl ends up in.

General impression: I can already tell that Hogtied is going to be a good experience. A site doesn't share this much content on the tour unless they're supremely confident in their content. Right up front they let you know how many pictures each set has and how long the video is. You can tell that they do the pictures and videos separately too, because the preview images are obviously high resolution digital shots shrunken down. It's always a pleasure to review a site I know is going to be high quality.

Bravo's opinion:  The member's area looks the exact same as the tour. You can choose between the full view of each scene, which displays the 10-15 preview pictures, or you can choose the brief view, which is just a picture and a description. They display more updates per page if you go with the brief view so it's a bit of a time saver. However, there's no better way to preview the scenes than to see all those wonderful pictures. As I mentioned above, the descriptions are very well done and I found that reading them was quite a turn on.

I always thought it would be a challenge to find hot models for a rope bondage site. After all, this is pretty serious stuff and the girls are going through at least a little bit of pain during the scenes. Parts of their bodies turn blue as the circulation is cut off or restricted by ropes. There are other implements of pain used as well, such as clothes pins. As it turns out they don't really have any trouble finding hot models as just about every girl is a total beauty. Some are even recognizable, like Samantha Sin, Kylie Wilde, Daphne Rosen, Candace Von and Isis Love.

Most of the scenes are solo or almost entirely focused on the model. In those scenes you'll occasionally see the rope master make an appearance to finish a knot or torture the girl's nipples or pussy a little, but in general he stays out of the picture and they cut the video around him doing the knots. Sometimes you get to watch her get hoisted in the air, and that's generally done from off screen. Those moments are pretty amazing by the way. The girl is tied up in seriously complicated knots and it's done safely enough that they can suspend her in mid-air without risk of injury.

To keep things interesting they like to bring in a dominatrix on occasion. These women are excellent at dominating their rope loving slaves, although in most cases a guy is still tying the knots. That leaves the domme to inflict pain and verbal humiliation, which is probably the best part of those scenes. To hear the girl called a slut and a whore and a worthless piece of crap plays well and I found it arousing. If you're into humiliation it will only further the experience. If not it will roll off your back.

Most scenes at Hogtied are 35 minutes, which is quite a lot of time to fill. I love rope bondage porn as much as the next guy but I though for sure that I would get bored pretty easily. Once again they have surpassed my expectations by throwing in so much variety to each scene that it would be impossible to get bored. First there are the interesting and painful looking rope bondage positions. There's a suspension in almost every scene and they always contort the girl's body into painful looking positions using craftily tied knots.

There's also an element of sexual pleasure. They talk about how they're forcing the girls to orgasm and I suppose holding a huge vibrator against her clit and firing it up is as close to a forced orgasm as you can get in porn. The models are pretty good about trying to fight the orgasm so they really sell the notion of it being forced upon them. It's pretty sexy to hear them scream, especially when there's a gag in their mouth and spit running down their face because they can't swallow properly. Really, if you're into rope bondage I can't think of a better site to join.

One of the cool elements of the scenes with a female domme is the strap-on sex. I know it doesn't appeal to everyone but I thought it was super hot. Picture a cute redhead tied up and unable to move with her legs spread wide and her ass hanging off a table. She's in the perfect position to get fucked and since this site doesn't really involve guys they have the female domme put on a strap-on cock and pound that pussy hard. It's powerfully sexy stuff, especially when you hear the torrent of naughty talk coming from the domme.

Most scenes have 190 images in high resolution and they've smartly split them into separate scenes so you can skip over the parts of the scene you don't like (perhaps you're not into suspensions). The videos look great at 1280x720 (which is not quite HD but is close enough) and they're also separated into chapters to allow you to skip over the stuff you don't want to see. You can stream the videos too, although it's a Real Media file and I don't even have that crappy player installed. You should really be downloading anyway because it's all yours to keep as long as you'd like.
Hog Tied Site Facts
Conclusion 88/100
I wasn't kidding when I said this is the best rope bondage site out there. Some might be comparable but no one does it better. The girls are great looking, the rope bondage is intricate and skillfully implemented and the scenes are incredibly long. There's enough variety from scene to scene and within each scene that you won't get bored as they do a little bit of everything within the genre. They also give you 30% off other sites in the network as a member.
Visit Hog Tied
Categories