Gloryhole Initiations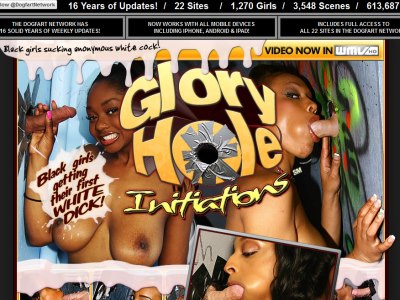 Gloryhole Initiations is for those that love seeing sexy black sluts sucking dick. The women go to the bathroom and find a big white cock waiting for them through a hole in the wall. They can't resist the urge to suck and their mouths are used as a playpen by the big white fuck sticks. Their pussies are also often used and the result is great hardcore fucking for all of us.
Gloryhole Initiations: Amazing glory hole action with a delicious black honey
Gloryhole Initiations Review
28-March-2014
Freetour offers: At GloryHole they have videos and picture galleries of white chicks sucking big black dicks. At Gloryhole Initiations they flip the equation, having sexy black chicks suck big white dicks through gloryholes in the bathroom stall. The tour is the place to go if you're looking for a preview of the action inside. There are pictures from what seems like every update the site has ever posted as well as a lengthy trailer that should provide you with all the video teasing you need. Beware, once you see it you might not be able to resist.

General impression: I imagine that the gloryholes at this site are in a studio somewhere but I appreciate that they look authentic. Anything that makes the site seem a little more genuine is a good thing in my opinion. I also appreciate how hot and sexy the girls are. These are some of the finest black babes I've ever laid eyes upon and watching them suck dick is going to be a blast, especially since they seem so eager. I'm also a fan of interracial porn so this should really be a good time for me and hopefully for you.

Bravo's opinion:  As an interracial sex site Gloryhole Initiations is a little bit different than most. By far the most popular type of interracial sex features black men fucking white women. Here they have black women sucking and being fucked by white cock and of course there's the gloryhole aspect of the smut. The ebony chicks walk into the bathroom stall to pee and they see a hole in the wall. They're curious at first and shocked when a big white cock comes poking through the hole looking for a warm mouth or a tight pussy. Although some hesitate for a moment all the ladies eventually end up sucking and fucking the rock hard dick poking through the wall.

The site is well organized and very easy to use. You can browse through the scenes by date, by rating and by your own personal ratings. They also have an A-Z list of all the pornstars that have appeared in scenes. I recognize quite a few names on the list so big fans of black pornstars may very well find that some of their favorite babes have shot a scene. When you're browsing normally they list six scenes per page with all the links you need to download the videos and look through the pictures right there. There's also a short description of the action, although it's pretty much the same in every scene so you don't really have to read it.

If you visit the tour for Gloryhole Initiations they make it very clear that this is an interracial site that feeds black chicks hungry for big white cock. Given that it's interesting to note that the site actually began as a regular hardcore gloryhole destination.Somewhere along the way they decided it would be more profitable to take an interracial approach and they were probably right to do so. While the white on white scenes are hot there's nothing particularly unique about them.

The black chicks sucking and fucking white dicks, on the other hand, is not something you see every day. They generally do a good job of finding white guys with big dicks. When you're doing a gloryhole scene it's important to make sure the dude's dick looks big enough when it's pushing through that hole and that the girl can get enough of it in her mouth and pussy to make the scene look interesting. The women they bring in are talented cocksuckers and fuckers and they put on pretty amazing shows with their mouths and their beautiful bodies.

A typical scene at Gloryhole Initiations begins with the girl coming in to go pee. She sees the big cock come through the hole and she can't resist the urge to suck. She strokes the white tube steak and then falls to her knees in front of it and starts sucking. At some point most of the girls get naked so we can see their pretty tits while they give head. Some are also turned sideways and playing with their pussies so we get a little extra show. Most scenes and everything added recently also features hardcore fucking.

The hardcore sex is the most impressive part of Gloryhole Initiations because it's so difficult to film and make look good. It's not easy to get a good view of the penetration since you can't get behind the chick. They usually come at it from below and the chick is required to be a little bit acrobatic to balance while the guy is slamming her from behind. When he's about to cum he makes an announcement and the black slut gets back on her knees and waits for his hot white spunk to land on her face and make her feel like the dirty cocksucking gloryhole skank that she is.

You can rate each scene on a 1-10 scale and you can browse them by rating for a sense of what the other members like best. Each scene comes with a picture gallery and downloadable videos and some have screencap galleries as well. The videos are divided into thirds and 90-120 second clips and some are available as a full length download. There are 640x480 clips and a lower resolution version if you're looking to save bandwidth. I'd go with the better looking stuff; it's worth the extra time to download. .
Gloryhole Initiations Site Facts
Conclusion 82/100
Gloryhole Initiations features black chicks sucking white dicks through gloryholes in bathrooms. The earliest videos added actually featured white chicks sucking white dick but they've since re-branded the site and all the new content is black on white. The gloryhole cocksucking is impressive and the fucking they manage to pull off is equally as impressive. The videos look good at a minimum of 1280x720 and they update every week with a fresh scene. The gloryhole sex is fabulous and the interracial element makes it even more fun. It's definitely a good buy at $29.99 per month.
Visit Gloryhole Initiations
Categories