Fucking Machines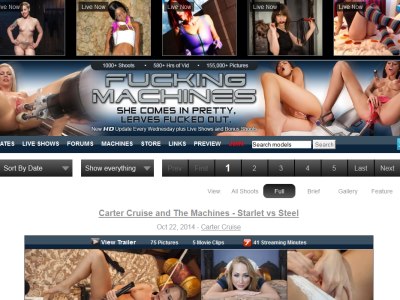 You do not even need to read the review. If you like a sex machine Fucking Machines is the only site that you want to join. They have tons of hot chicks and have 50 machines that they use to treat the ladies. You will not find a better, higher quality, more organized site somewhere in the market.
Fucking Machines: Tori Black tied up and riding a Sybian fuck machine
Fucking Machines Review
3-November-2014
Freetour offers: I'm amazed at the variety of mechanical sex machines that have been invented over the years since this genre became so popular. It's pretty amazing stuff and judging by the tour Fucking Machines seems to be one of the industry leaders. They invite you to check out everything they've done by looking at screens from each scene and reading a description. Some scenes have a story to tell and others are just simple toy testing sessions.

General impression: Fucking Machines is the first site of its kind that features a double penetration, at least of the sites I've seen. I saw a picture of hot porn star Ava Devine getting fucked in the ass and the pussy as she was on her stomach. She seemed to be having a great time and I have a suspicion that I'm going to have a great time as well in the member's area. After all, I like dildo play and this is essentially a new age version of dildo play where the girl has less work to do.

Bravo's opinion:  You might have seen on the tour that Fucking Machines has produced a ton of content. There have shot roughly 935 scenes (as of October, 2014) since they launched in September 2000 and they continue to update every week with a new sexy scene. There are so many things to talk about with this hot site that I don't even know where to start. The majority of scenes are solo experiences with the model surrounded by mechanical fuck toys and an unseen tech operating them and assisting her with reaching orgasm.

Like Ava Devine many of the models are well known porn sluts. Other notable names include Lexi Love, blonde hottie Harmony, Isis Love, Satine Phoenix, Tory Lane, Sammie Rhodes and Amber Rayne. They have a separate page for each model that proves useful as many of them have shot multiple scenes for the site. If you like a model and want to see all her scenes just search for her name. You'll also find that she's probably shot for other sites in the Kink network and you get a discount on membership to those sites if you join one of them.

You'd think that with 935 scenes they'd be in danger of repeating themselves over and over again and boring their members to death. I was certain that would be the case when I was first looking over the site but upon closer examination that's not the case. Recent additions to the site are a perfect example of this in action. Most recently a scene starring Harmony, a blonde goddess, was added. Harmony is an experienced porn slut and they let her have free reign on the set to use any machine she wanted, essentially making her the director. She ended up squirting several times, making a mess of things. Hers was shot in a dark warehouse.

Before that a scene with Gwen Diamond was added and it had more of a bondage theme to it. At one point they had her hands tied behind her back and her tits bound in plastic wrap. Other bondage elements include tying her to the table hoisting her hands above her head so she was unable to fight whatever they had planned for her. That plan included putting the dildo fucking machine on high and watching it pump into her pussy with great speed and desire. Of course, Gwen is a tasty slut and she couldn't help but orgasm over and over as they tortured her deliciously.

The third most recent update stars Ariel X and it was filmed in someone's lovely looking living room with brown leather couches surrounding her. Like Harmony, Ariel is a squirter and she makes a mess of the carpet in the living room. Unlike the other two scenes Ariel's asshole gets a major working over. There's a double penetration and then she gets on her hands and knees and lets a mighty thick dildo fuck her over and over again in the back door. All three scenes offered something different and that's just the tip of the iceberg.

If you're at all familiar with mechanical fucking instruments then you know the basics. The most commonly used machine is the one that simulates thrusting. They attach a dildo to the end of it and gently ease it into the girl's pussy, letting the cock go as deep as she can handle. It's pretty cool when they have one of those with a double thruster so the girls can take it up the ass and in the pussy at the same time. They also have cocks that were made for riding so the ladies that like it on top can get their pleasure.

Fucking Machines is always working on new stuff and one they've come up with recently is an inflating cock. It slides into the girl and gets bigger, filling her up more than she's used to and hopefully sending waves of pleasure throughout her body. There's also a modified chainsaw looking toy that has small dildos attached to it instead of sharp blades. The chain goes around slowly and the dildos hit the girl's clit over and over again, sending her into screaming fits of pleasure. There are 50 machines total so I couldn't hope to explain them all. There's a page on the site dedicated to explaining all the machines so you won't be confused.

Fucking Machines is obviously a quality site, but it would all be for naughty if they dropped the ball when it came to the videos. Luckily they've come through in a big way, delivering 1280x720 clips for all scenes produced in the last. The oldest scenes are low quality, but that was also eight years ago so it's hard to blame them. They've divided the videos (and the picture galleries) into chapters, separating the different machines into different clips so you can choose just what you want to see. You can also download all the files as a zip.
Fucking Machines Site Facts
Pictures
935 Galleries
High Resolution: Yes
ZIP Files: Yes

Videos
935 Galleries
1280x720 pixels Windows 1600 Kbps (downloadable)
1280x720 pixels Flash 0 Kbps
1280x720 pixels MPEG4 4000 Kbps (downloadable)
Full Scenes: Yes
DRM: No

Exclusive
All content is exclusive

Cost
Monthly: $29.90 1 month
Multi-Mo: $59.90 3 month
Multi-Mo: $99.00 6 month (non-recurring)
1 Year: $169.95 12 months (non-recurring)

Billing
DHD Media
Credit Card Online Check, Postal Mail
Conclusion 92/100
Fucking Machines is a tour de force, one of the finest sites in the genre and a surefire way to get your money's worth if you love mechanical sex machines. There are 50 machines they employ to pleasure the ladies so there's always something fresh. They bring in only the finest looking women, many of whom are famous and have clearly been drawn to the site by its reputation for quality. All videos can be downloaded and the quality is fantastic. I give Fucking Machines my highest recommendation.
Visit Fucking Machines
Categories