Embrianna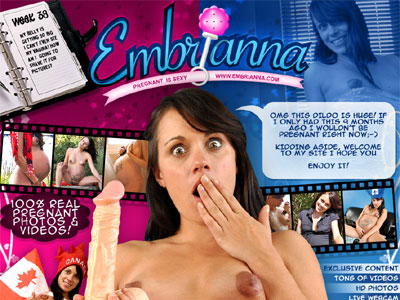 Embrianna is the website of a pregnant Canadian amateur of the same name. Her she shares some of her 1080p HD movies and pictures of her preggo porn with fans of the niche.
Embrianna: Hot smoker pregnant babe has some finger fun
Embrianna Review
3-January-2012
Embrianna is a brand new site at the time of my visit. Brianna, the star, is very much pregnant but that hasn't cooled her sexuality at all. If anything it has only made her lust for it more. She grew up in French Canada, is a brunette, is attractive and apart from the massive swelling of her pregnant belly she remains skinny and lithe.

Her site is just getting going but she has a god range of material already. It's all solo posing and teasing at this point. She poses and strips both indoors and outdoors, most of the sets being of the latter. She poses in street clothes and lingerie, stripping and teasing as she undresses. She clearly fetishizes her big belly in the episodes, rubbing and caressing it. In her videos she takes things a little further at times, including inserting sex toys and masturbating.

In total Embrianna has a total of 25 videos online. These run about 10 minutes long each. They can be downloaded in an impressive 1080p HD Windows Media file. The resolution is massive (1920x1080 pixels) and the image looks fantastic. They are amateur movies though so they still lack that studio polish. You can download the movies as full-length scenes. There were no other media options to pick from though.

I counted 36 galleries on her website at the time of my visit as well. These averaged 100 pictures each that you can browse through online. Zip files are there if you want to download the entire set of images. You can also just download the pictures you like best manually by right-clicking on them and choosing to save target as.

As far as preggo sites go Embrianna isn't the best I've seen but it has an amateur charm to it. One thing I was excited for when I saw it on the menu was a live webcam, but as it turns out this is just a promotion for third party services. She doesn't do cam shows for members. You do get access to some other sites for free though, including preggo sites called Lactalia and Pregnant Kristi. These come through the VIP Members network. In total you have well over two dozen hardcore, amateur and fetish porn sites to visit.
Embrianna Site Facts
Conclusion 79/100
Embrianna is a small site yet but it wins me over for two reasons: 1080p HD movies and more preggo porn sites amongst the bonuses. As a package then it was able to quench my thirst and deliver a good value. So long as she keeps updating the site is a good option for fans seeking pregnant women porn.
Visit Embrianna
Categories