Download Pass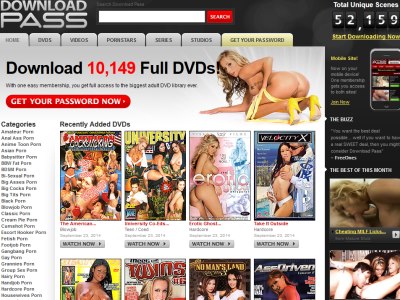 If you go into an adult video store to buy a DVD you'll find that it's going to cost you upwards of $40. If you join Download Pass you can download more than 10,149 DVDs for $25. You'll probably have to stick around for a few months if you want to download all the movies (and buy a few new hard drives), but it's clearly the bargain of the century.
Download Pass: A long haired Brit babe gets banged on a park bench
Download Pass Review
15-May-2015
Freetour offers: Download Pass gives it all away on the tour, except for the full length movies that is. You can essentially browse the entire site, which includes full previews of each and every DVD. There are currently 10,149 DVDs in the archive so it might take a while. I suggest you stick to the categories you like to make sure they've got something that floats your boat. The DVD previews have six pictures from each scene and while they're small pictures they offer enough information to inform you as to the content.

General impression: DVD download sites are a big deal these days and Download Pass is one of the largest I've seen with more than 52,159 scenes total. I spent quite a bit of time browsing the tour and I'm convinced that there's going to be some great stuff in the member's area for me. I'm also pretty excited considering they let you keep everything you download. I wonder if I can download everything before my membership expires.

Bravo's opinion:  The member's area looks exactly like the tour, as you'd expect. The content count is a little different though; they're not updating the stats on the tour for some reason. As of May 13, 2015 it reads like this: 10,149 DVDs, 52,159 scenes. Does that seem like enough for you? Even if you hate 90 percent of the movies that 10 percent you like will be more than what you'll find at almost every other porn site on the web (other DVD download sites notwithstanding).

They update the site every day and they don't skimp either: three new DVD are added, which means 3-6 hours of new goodies every single day. No human could possibly keep up with that much content, which is the point of a site like this. The main page also offers a list of the top 5 rated DVDs. A list of the most downloaded would have been more useful since it's unclear how many votes the movies have received. Nevertheless, the top movie on the entire site is Sugar Walls 3, an ebony porn movie starring Cinna Bunz, Cinnamon, Fonda French and more.

There are many different ways to browse Download Pass. The most effective is to look through the list of categories and pick out your favorite. There are enough categories to allow you to get pretty specific with your desires. Examples include amateurs, BBW, BDSM, hardcore, bisexual, cream pie, cumshot, housewives, redhead, squirting and transsexual. They've got something for almost everyone, with those of you that like really dark and naughty fetish content left out in the cold. This is a DVD site though and those niches are almost never covered by DVD producers; they're left to websites instead.

My favorite way of browsing the content is to look at the porn star index. They have more than 24,500 sluts listed and at first it seems a little daunting. It's not. You can search by name, so if you know the girl you're looking for then you're in luck. Even if you only know her first name you'll be fine. They've also provided a powerful search function that lets you determine your search by ethnicity, age, hair color, tit size, weight and the number of scenes she's been in. Given all those tools you should be able to choose exactly what kind of lady you want to see. I chose big breasted blondes of college age who have done three scenes or more. Booyah!

Of those I chose to see what Stacy Silver had to offer me. When you visit a model's page you'll see her picture, a brief profile featuring all the info you can search on and a list of her scenes. From each scene there are four small screen captures and the running time. Click any of the pictures and you're watching a streaming feed of the scene. The same goes for any movie on the site, whether you're browsing by DVD or by model. You can also download any of the scenes.

Somewhere in the past year Download Pass upgraded the site. The streams used to play in an embedded Windows Media Player and you couldn't fast forward until the entire clip was downloaded. Now they play in an embedded Flash Player and you can fast forward in an instant and it takes only a few seconds to buffer and start up again. Before they offered you two versions of each scene for download. One was low resolution and the other was not quite high resolution. Now they have three versions. There's an iPod and PSP ready low resolution clip, a 640x360 WMV and a 1920x1080 MP4 that looks phenomenal full screen.

The only shame is that they haven't gone back and upgraded the rest of the site. Once you see the new high resolution video you'll wish they were all like that. There's a favorites list feature on which you can put your favorite DVDs for future reference. Given how large the site is it's almost an imperative that you use it if you're planning on coming back to a video. If you don't want to browse by category or porn star they have a few other options. Those are: by studio, by DVD series, by date of release and you can simply call up a random DVD if you're in the mood to roll the dice.
Download Pass Site Facts
Videos
2997 Galleries
640x360 pixels Windows 2000 Kbps (downloadable)
1920x1080 pixels MPEG4 5000 Kbps (downloadable)
920x516 pixels Flash 0 Kbps
Full Scenes: Yes
Video Captures: Yes
No Download Limit: Yes
DRM: No

Cost
Trial: $4.99 2 days
Monthly: $24.95 30 days
1 Year: $89.99 365 days (non-recurring)

Billing
Epoch, SafeBilling
Credit Card 900 #, Online Check
Conclusion 93/100
Download Pass is among the internet's best DVD download sites. They have more than 52,159 individual scenes taken from more than 10,149 DVDs. They add three new full movies every day, ensuring that you couldn't possibly see everything they offered even if you spend 12 hours a day watching porn. They've done a good job of organizing such a large site and you shouldn't have any trouble finding a porn star you want to see more of or a particular porn category that turns you on. Bottom line: this is one of the best deals in all of porn.
Visit Download Pass
Categories