Doctor Adventures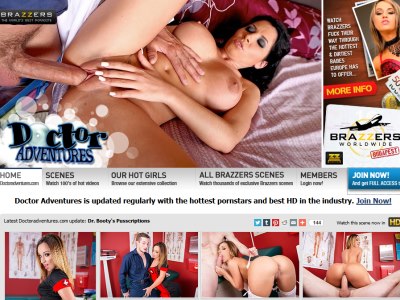 They say that laughter is the best medicine, but after spending a few hours checking out the videos on Doctor Adventures, I think I can honestly say that sex with a sexy fucking doctor is the best medicine! I don't care what I have. The common every day cold or a brain tumor. Get me one of these doctors! And hey, if the treatment doesn't work, then she can just keep trying!
Doctor Adventures: Asian angry babe Kendra Spade gets splattered with cum on face
Doctor Adventures Review
19-November-2014
Freetour offers: The free tour is nicely presented. The newest updates to the website are presented one after the other, with some nicely sized thumbnails and a video trailer for each, as well as some text describing the, uhhh, treatment. ;) Be sure to check out the bonus access to other websites on the join page, but more about that later!

General impression: My first impression when I arrived at Doctor Adventure was probably curiosity. What an interesting concept for a website, I thought to myself. I've always been a big fan of the naughty nurse niche. I had no doubt I'd enjoy the naughty doctors, also.

Bravo's opinion:  These doctors seem to think the best way to treat a patient is with more than just a hands on approach. More like a mouth and pussy on approach! The guys certainly leave looking a lot happier than they did when they first arrived. So hey, maybe they're not cured, but they certainly seem better off!

Inside the member's area, you'll find exciting hardcore pictures. I wonder if this kind of thing is covered by Doctor/Patient privilege? I was surprised to see this many pictures. I figured this kind of content would be pretty rare and hard to get a hold of. Doctor Adventures have done a very good job of collecting such a large archive. Although, it is padded out by some naughty nurse pictures, but who's going to complain about that? If there's one thing hotter than a naughty doctor, it's a dirty nurse!

The video collection is also quite extensive when you consider the nature of the website. Again, they've done an excellent job amassing such a collection of hard to find videos. The videos are available sliced up into smaller clips and also as one large downloadable file. If you ask me, this is how a porn site should be. I'm not a fan of embedded video. I love being able to download the video to my computer so I don't have to wait for all that buffering shit to sort itself out. So this was a relief, as a lot of the sites I've reviewed lately have only had embedded video.

The first video I had the pleasure of watching featured a doctor named Brianna Beach. Mr. Ely is in for a routine checkup. Everything starts off rather normal. Seemingly routine questions, etc. However, Doctor Beach is wearing one hell of a short skirt, and she's bent over her desk while she's writing down the answers to her questions. Her patient can't help but check her ass out. She gives him this tiny little towel to cover himself up with and asks him to get naked. She then leaves the room. She comes back. Ely is laying on bench waiting. She gives him a quick look over, and checks his blood pressure. Checks his reflexes. All that usual crap you go through when you get a checkup. Everything seems to be in order. She goes back to her desk to fill out some more information, and Ely can't help but check out her ass again. Only this time she catches him in the act. She confronts him, and he denies it. But the tent he's pitching in that little towel gives him away. She seems pissed off. She even threatens to call the cops. But there's something about this doctor. She shows him her ass, and asks him if it's the reason for his hard-on. He continues to deny it. She asks for his hand and places it against her hand. This guy's cock is rock-hard by now. She asks again if it's the reason he's hard, and he still denies it. But you can tell it's becoming harder and harder for him to deny it. Next thing you know, her doctor's coat is off. She unbuttons the blouse of her top and reveals her breasts, covered only by a hot pink and black lace bra. Ely can only look on in awe at this gorgeous doctor standing right in front of him. Next, the bra comes off, and she again takes Ely's hand. This time, she places it against her breast. Ely is nervous as hell. I think he's still worried that she's going to call the cops! Dr Beach knows how to deal with him, though. She gets him down onto the ground and onto his hands and knees. As punishment for looking at her ass, she puts her ass right into Ely's face. I think he's as shocked as I was! She's quite the bossy dominatrix. Next, he's back up on the bench. She lays him down and starts to jerk him off. She keeps telling him to cooperate, or she'll call the police. It's not long until she has him eating her pussy, and not much longer after that until she gets on top of him and takes her patient's cock in her cunt. They change positions a few times, but the video ends with the doc bent over the examination bench with Ely fucking her from behind. When he's ready to blow, he pulls out and cums all over her sexy little ass. I fucking love the videos on this website.

Before I wrap this up, I want to tell you about the special bonus site feature on this website. When you join Doctor Adventures, you also receive access to 29 other adult websites at no extra cost. The websites are Baby Got Boobs, DD Starlets, Busty and Real, Jug Fuckers, Jizz on my Jugs, Racks and Blacks, and finally, Hardcore Petites. You can expect the same quality level at these other 29 websites as you'll expect to see in Doctor Adventures. In other words, you know they are also going to kick ass!
Doctor Adventures Site Facts
Conclusion 84/100
Well, that about wraps it up. This website is genuinely unique. I've never seen anything quite like it before. Anyone with any kind of medical fetish, whether it be doctors or nurses, should check out this website. I only wish my doctor was as hot and as slutty as these babes. I have a feeling I'd be falling ill far more often. ;)
Visit Doctor Adventures
Categories