Czech Mega Swingers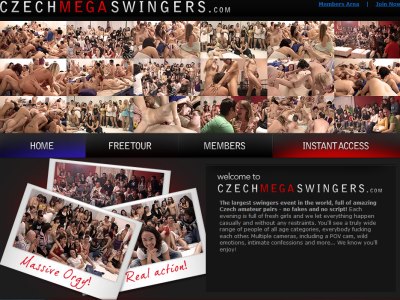 Czech Mega Swingers features dozens of beautiful Czech amateur couples fucking in massive orgy sex scenes, all filmed in POV. The site is new, filmed in 720p HD and comes with free access to three other quality sites.
Czech Mega Swingers: POV Foursome With Three Horny Teens
Czech Mega Swingers Review
25-May-2015
Czech Mega Swingers launched in April 2011 - and at the time of my first visit is just a few weeks old. Though it has been open a short time, its already offering a mind blowing experience, one that I would recommend to any fan of swinger sex and large orgies.

The site works with a dozen or more real amateur couples in each scene. They are all from the Czech Republic and you can expect the women to be above average, or at least most of the girls in the sex. The camera wanders about and takes it all in POV style. You'll watch as things get heated and clothes start coming off, and the living room floor becomes a sea of bodies humping, sucking, moaning and sweating as one partner works their way around. The women sample and suck on the various cocks, take turns being fucked or riding the men and catching hot gobs of cum. A lot of scenes wander into the showers, as couples clean up only to get turned on in the steamy shower stalls and fuck some more. It's what I imagine a Roman orgy must have been like in its day.

At the time of my last visit there were 87 episodes in the library. Each of these is an all-original and exclusive production that you won't find anywhere else. They are filmed in 720p HD and can be downloaded in a Windows Media file format of that quality. I highly recommend you download copy in HD for each scene - they look amazing. The other downloads as well as the streaming options are great as well, but not as amazing. The streaming videos are super convenient. You can watch them right in the members area. They will play in an embedded window.

The site is too new to tell how often they are updating. If you have any concerns about content numbers though, don't be worried. Besides this site you'll have free access to three other similar-in-spirit Czech-produced porn sites for free. They include the sites Czech Lesbians, Czech Parties, and Czech Streets.
Czech Mega Swingers Site Facts
Conclusion 86/100
Czech Mega Swingers isn't the biggest site but its one of the best for fans of real amateur swinger orgy sex. This site has a unique collection thats very much worth seeing, and with all the bonuses they make it a great deal as well.
Visit Czech Mega Swingers
Categories