CFNM Show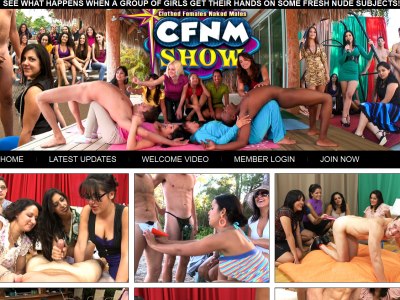 CFNM Show is a brand new web site that invitse you to see what happens when a group of hot and playful girls get a nude male to play with and do whatever they want.
CFNM Show: Three Lovely Ladies Choosing The Next Porn Star
CFNM Show Review
11-March-2015
At the time of my visit to CFNM Show the site has been online just a few weeks. Still, the library has a good number of fresh, original and totally exclusive episodes to offer viewers. If you know anything about the CFNM niche, like what the acronym stands for (Clothed Female Naked Males), you'll know what sort of porn the site has on tap for you.

On strict CFNM niche sites, the girls never take off any clothes, and its all about the toying and sometimes humiliation of the naked male. Multiple girls team up together to take charge of a situation, and sort of bully their way into playing with the man's big naked cock - tugging him off, sucking him, and making him cum, usually while giggling or making fun of him. CFNM Show has a more sexual approach, with the girls not just sucking on the guys cock, but lifting skirts to fuck the big dick or taking out their plump tits to be tit fucked. The groups of girls, usually five to ten, cheer and jeer and laugh and share the messy cumshots they get their nude male playthings to spurt out.

The excitement comes from the reversal of the usual roles: the women are in charge, their sexuality is raw and they aren't afraid to do all the things they've been curious about with their naked male plaything. It works very very well!

At the time of my visit there were 22 full length episodes in the library. These varied in length but most 28 minutes long. All of them can be streamed online in a large, high quality Flash video player. The image quality is great and the sound is crisp. As awesome and convenient as the embedded streaming videos are, I was still upset that they didn't include any download options.

When it comes to media there were a few other issues to get past as well. There are no downloads for videos, and there aren't any picture galleries either. You also have no free-to-access bonus sites in the bonus sites section (though they do offer some discounts to other sites). With such a small library, the lack of these options and extras does sting a bit.
CFNM Show Site Facts
Conclusion 82/100
CFNM Show needs to grow larger, that's for sure. It would also be nice if they could offer some downloading options for videos, and maybe a few extras to help members out while they're growing the collection.
Visit CFNM Show
Categories