Brandi Belle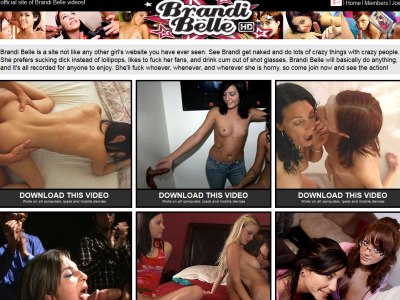 Brandi Belle is quickly becoming one of the biggest sensations in the solo girl scene and for good reason. This girl is crazy hot. Hell, she's just plain old crazy. In her own words, if she wants to fuck some random guy in a parking lot, she will.
Brandi Belle: As she's horny she gets his hose out to suck
Brandi Belle Review
3-November-2014
Freetour offers: The free tour from Brandi Belle must be one of the best solo girl tours I've come across. It's very informative and leaves you with absolutely no doubt of what you can expect to find once you're inside the member's area. Clicking on the updates page link will take you to a page with the last 20 updates. Each is depicted by a thumbnail image and is accompanied by the date it was added and the runtime of the video. The good news is that at the bottom of the updates page is a link to even more updates. This is one of the few websites where you'll be able to see a preview of every video added to the website. Clicking on any of the thumbnails takes you to a page with a description, large thumbnail images and a video trailer. There's a video trailer for every single scene in Brandi's website! Her blog is open to guests, which is rare. You don't need to be a member to read it. You can't browse this website without downloading her welcome video and at least a few of the video trailers. You won't find any sucking on lollipops in Brandi's website. She prefers real cock. Welcome to the most hardcore solo girl site you'll ever see!

General impression: Let me put it this way. I found the free tour of Brandi's website more exciting than the vast majority of solo girl websites I've been inside. And I've been in a lot of them. This girl is incredible. She exudes sex appeal. Hell, even the trailer videos on the free tour are of a higher quality and resolution than what you find in most paysites. This girl is wild and is a hell of a lot of fun. It's not surprising that she's built up such a large following of fans. It really doesn't even need to be said, because it's obvious the moment you arrive on the tour, but Brandi is an incredibly beautiful girl. You only have to look at her eyes video on her about me page on the tour to see what I'm talking about. She has the most beautiful green eyes. My first impression summarized in just one word? Wow.

Bravo's opinion:  Given how in depth Brandi's free tour, I was expecting nothing less than one of the most comprehensive member's areas I've ever seen. And she did not disappoint! I'm going to go out on a limb and say this is one of the best solo girl websites I've come across. And it's not simply because she has a lot of hardcore porn in her site, something which is missing in a lot of solo girl websites, but it's just the level of effort that goes into satisfying her members. I think the level of effort being put in would be no less if her website was softcore.

It's just the extra effort that she puts in that really shines through. Simple little things that on their own probably wouldn't seem like that big of a deal, but all the little things add up! I love the brief little summaries she gives after some of her shoots. I can't say I've seen that in any other site. And another thing I've never seen is fansigns for members. Once you've been a member of Brandi's site for a month, you can request a personalized fan sign. In the first fan sign, Brandi will be fully clothed. For your second fan sign, which you can get once you've been a member for 3 months, you get another personalized message. Only this time, you get to choose an item of clothing for Brandi to remove. And finally, once you've been a member for 6 months, you get yet another personalized fan sign. Difference is, this time Brandi is completely naked for you.

Another thing I've never seen is a list of the guys that have appeared inside her website. Each guy gets a write-up describing the scene he was involved in. What went right and what went wrong. She even goes so far as to mention their length, girth and whether or not their cum tasted good! She's brutally honest, so keep that in mind if this sexy little nympho approaches you in the street. Don't think it's possible? That's how a lot of the guys that have had their cocks sucked by or gotten to fuck Brandi were found. She sees something she likes and she goes after it. And just look at her. Who's going to say no to this girl?

Brandi's website updates every week on Tuesday without fail with a brand new video. Each scene comes with screencap images and a video trailer. If you like, you can stream the video directly from her website. Personally, I prefer to download them to my hard drive. Members are given options galore when it comes to how you want to view the content. Firstly, you can choose one of 3 different options when it comes to video length: full-length, large clips and one minute clips. The large clips option is the only one that needs explaining. Every scene is broken up into four equally sized pieces. The other two options are pretty self explanatory. The clips, both large and small, are both available in WMV and MPEG format. The full-length videos are only available in WMV, though. Personally, I wouldn't bother with the MPEG files. They're larger to download and surprisingly, smaller in terms of resolution and the quality isn't as good as the WMV files. The resolution of all WMV videos is 640 x 480 pixels and the bitrate they're encoded at is 1.05Mbps (1050kbps). In plain English, this means the videos look fucking great.

Currently, as of October 2014, there's a whopping 205 exclusive full-length Brandi Belle videos available to members. Remember, this number is growing at a rate of one new scene per week, so by the time you've read this review there's going to be even more of Brandi to enjoy.

It's difficult to explain to you just how sexy this girl is. How she manages to be so adorably cute while at the same time being a cock hungry maniac is beyond me. In terms of appearance, she reminds me of a cross between Alexis Bledel (Rory from the Gilmore Girls) and Zooey Deschanel (Almost Famous, Weeds), only much much hornier!
Brandi Belle Site Facts
Videos
205 Galleries
720x404 pixels MPEG 1100 Kbps (downloadable)
1280x720 pixels MPEG4 3600 Kbps (downloadable)
720x404 pixels Windows 1500 Kbps (downloadable)
960x570 pixels Flash 0 Kbps (downloadable)
Full Scenes: Yes
Video Captures: Yes
DRM: No

Exclusive
All content is exclusive

Cost
Trial: $1.00 1 days
Monthly: $29.95 1 month
1 Year: $119.40 12 months

Billing
Epoch, Jettis
Credit Card Online Check
Conclusion 90/100
Personally, I think Brandi is one of the most gorgeous girls I've come across in porn. It's her eyes. You just have to trust me. Get inside and find the first cock sucking video you can get your hands on. Sit back and watch her gaze into the camera while she skillfully works her mouth over some lucky bastard's cock. She stares so intently at the camera that you can't help but get lost in the moment. It's almost as if she's sucking your cock. I could stare into those eyes for hours. At the very least, you've got to check out the tour. Don't take my word for it. See for yourself. Check out her welcome video and watch some of the video trailers on the updates page. You won't be disappointed. Enjoy!
Visit Brandi Belle
Categories