Bound In Public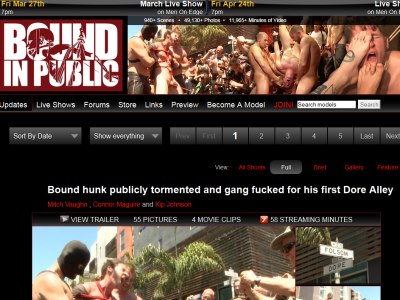 Bound In Public is an intense gay site that merges sex in public, group sex and intense bondage and BDSM action into an intoxicatingly erotic cocktail. The site is part of the Kink network.
Bound In Public: A gay gets humiliated and fucked in public in bondage clip
Bound In Public Review
11-March-2015
Bound In Public is a brand new site from the minds at Kink.com. Like their other sites, you can expect a few things from this one: incredibly high quality media options; attractive, good looking performers that are very much part of the lifestyle, not here just for pay; quality sex in very atmospheric settings.

Bound In Public has been online just a few weeks at the time of my visit and it's still a small site. That really didn't matter though, because the content is that good. A typical scene is set in a curtained, wood-paneled room with rich maroon rugs, warm yellow lights and luxurious furniture. A group of men surround the center stage, usually a dark wood table and a dark satin couch. On those items are the subject, a muscled, handsome man bound by his hands and feet to the table, as well as the four or five guys that are going to tug on his cock, fuck him hard in the ass, and generally have their way with him. There is a lot of bondage variety, with cocks and balls being tied up torturously tight, and a bunch of creative knots. Sometimes they lift up the subject and feed him to the crowd of horny onlookers, which take advantage of the chance to stroke the man's cock or suck him off.

That intensity is in every scene. There were 194 total movies in the library at the time of my visit and they are obviously exclusive and original. They are also quite long, running over an hour each from start to finish. You can download them in 720p High Definition MP4 files. These offer a remarkable playback quality. You can also grab them in 720p HD Windows Media files. Any movie can be watched online in a Flash video player as well. These aren't quite the same resolution as the HD downloads, but the stream still looks clear, sharp and fantastic.

There were picture galleries with each scene. The sets were very large, with around 200 images in each. The photographs are high resolution and document the intense scenario in a different style. You can browse through the images online or save them in zip files.

Updates are made weekly to the exclusive collection and no other extras are included with a pass.
Bound In Public Site Facts
Conclusion 83/100
Bound In Public is a very new site and not very large, but its big in other ways. These long, exciting scenes are too much to pass up and make the site a wise investment right now. If you're into intense BDSM and gay sex in public the site is an excellent pick.
Visit Bound In Public
Categories