Big Tits At Work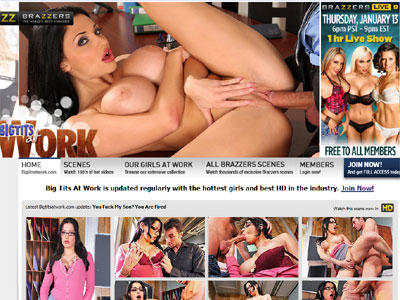 Big Tits At Work claims to be the home of the hottest professionals in America and after taking a quick look at the tour it's hard to disagree. You'll find the hottest big breasted office babes getting hot and nasty with their bosses, employees and co-workers. All I want to know is where do I send my resume?
Big Tits At Work: Brunette bombshell MILF secretary Diamond Foxxx swallows cum in office
Big Tits At Work Review
12-March-2014
Freetour offers: The free tour is typical in terms of what's on offer. You get one scene preview after the other. The difference is the glimpse at the quality this tour gives you. You just feel like you've arrived at a site that goes above and beyond what most sites are prepared to do. You're immediately aware of the higher level of quality available inside the member's area. The tour itself is very pleasing on the eyes. It's interactive, too. Even guests can rate the episodes on the tour. You'll get the girl's name, her job position and a description of the scene. And of course along with all the images shown with each scene preview, there's also a video trailer for you to check out. I'd also suggest you get yourself to the join page and scroll down to see one huge benefit to becoming a member of this website. Trust me. You'll see what I mean.

General impression: Big Tits At Work just screams quality. Having already been inside some of the other websites operated by the folks behind Big Tits At Work, I know that they can deliver a quality product. And after browsing the tour and taking a quick peek into the member's area, it looks like they've managed to do it again. The content is amazing. The quality is very high and the girls they manage to find are absolutely stunning. And of course they've got incredible tits.

Bravo's opinion:  When you first log into the member's area of Big Tits At Work, you'll quickly realize that you've just logged into one of the most comprehensive big tit websites on the web. All of the content within Big Tits At Work is exclusive, and for a site that's only been around for a few years at the time I'm writing this review, there's a very impressive amount of archive. I've been inside of exclusive content websites that are a year or two old which have contained less content.

But it's not just the exclusive content and the archive. It's the extras. It's the member's area polls. It's the ability to submit ideas for the next Big Tits At Work episode. It's the ability to add scenes into a favorites area, which comes in very handy. Particularly when you're also browsing the 29 other porn sites you'll be getting access to with your Big Tits At Work membership. More about that later, though.

At the top of the first member's area page is of course the latest update. What you'll see is a thumbnail image, the name of the girl, the date it was added, its rating and the number of times it's been viewed. You'll also get a scene description, just like you would on the tour. And of course there's links to all the associated picture and video content for that scene.

Pictures are separated into two separate categories: High Quality Pics and Screen Caps. The high quality pictures are of course photos taken by a photographer during the shoot. The quality of these shots is superb. The screen caps are simply still frames taken from the video. Naturally the quality of these isn't nearly as good as the high quality pictures, but you'll be surprised at how good they look. The one thing I don't like about the image galleries is that clicking on any of the thumbnail images will open the full-size picture in a new window. But they've got a great alternative to browsing the galleries online like this. Both the high quality pictures and the screen cap images are available in downloadable zip archives. This is the perfect way to browse images. Because once you've unzipped the archive onto your hard drive, there's no waiting for each image to load. It's the perfect way to browse an image gallery. As for the size of the pictures, the high quality pics measure 1920x1080 pixels. The screen caps match the resolution of the videos at 1280x720 pixels. The most impressive thing about these image is the size. You can expect to find around 200 pictures per gallery.

Members get a broad range of options to choose from when it comes to the video content. Windows Media Video (WMV) and MPEG formats. All files are fully downloadable and the WMV files can be streamed straight from the website. Both the MPEG and WMV files measure 1920x1080 pixels and although the MPEG files are encoded at a higher bit rate of 5000kbps, I'd still recommend the flash files which have 960x720 pixels. Don't let the larger number fool you. Flash is the format of choice these days and it's not hard to see why. The Flash files are half the size of the MPEG videos but look every bit as good, if not even better! So why waste your time downloading a larger file? Member's are also given the option of streaming the video via a flash video player. The quality of this is surprisingly good! Typically you can expect a Big Tits At Work episode to last about 30 minutes or so. There's no DRM protection on the files, so they're yours to keep and watch even after you've canceled your membership. The download speeds are amongst the best I've experienced.

Currently, Big Tits At Work contains 380 full-length exclusive episodes. And like I said for a site that's only been around for a few months this is an impressive volume to say the least. But you get access to a lot more than just 380 episodes with this membership. It's all about the bonuses!

Big Tits At Work is actually part of a larger network of adult websites known as the Big Boob Pass. And as the name would suggest, most of the websites in here are focused on girls with big tits. 29 of these websites contain exclusive content: Baby Got Boobs, Big Tits At School, Big Wet Butts, Busty And Real, Busty Z, Butts And Blacks, Doctor Adventures, Hot Chicks Big Asses, HQ Honeys, Jizz On My Jugs, Jug Fuckers, MILFs Like It Big, Mommy Got Boobs, Pornstars Like It Big, Racks And Blacks and Sex Pro Adventures. There's also Teens And Blacks, DD Starlets and Hardcore Petites. And on top of the bonus access to 26 websites, you also get access to 35 bonus content feeds. You might get 71 scenes inside Big Tits At Work, but across the network of 27 exclusive websites there's a total of 2800= scenes. And this number is growing quickly! Each week on Monday, a new Big Tits At School and Big Wet Butts episode is added. On Tuesday there's a new Big Tits At Work and a new Doctor Adventures episode added. Wednesday sees the addition of a new Sexpro Adventures and Hot Chicks Big Asses scene. On Thursday you'll get a new Jug Fuckers and Baby Got Boobs scene. On interracial Friday you get a new Butts & Blacks and Racks & Blacks episode. There's a new video added each Saturday for Busty and Real and each Sunday sees a new scene added to Busty Z. That's 27 new videos per week! That's an average of 52 new scenes per month. Not bad for less than 25 bucks, eh?
Big Tits At Work Site Facts
Conclusion 90/100
Awesome value for money. Probably one of the best big tit websites and networks available at the moment. The content is great and the range of options available is superb. The girls are stunning and they've got some of the best tits on the web for sure! Even on its own, Big Tits At Work would be worth the monthly membership price. With all the bonus network access, value for money isn't even in question. Simply put, if you're a fan of big tits, you simply must join this website. It really is that good. Enjoy!
Visit Big Tits At Work
Categories