Big Tits At School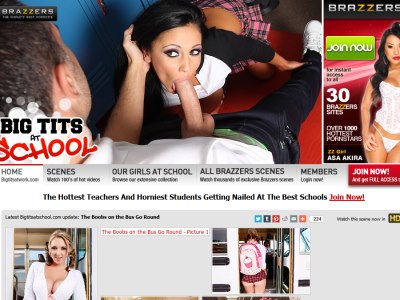 Sometimes it's the horny big breasted teacher lusting after her students. Other times, it's a sexy student with big tits fantasizing about her lecturer's big cock. Or maybe it's a student's mother doing everything in her power to get her son or daughter a pass for that class. Come inside and find out.
Big Tits At School: Curvy sex goddess Sybil Stallone bends over for a dick
Big Tits At School Review
19-November-2014
Freetour offers: Finally! A website that brings together my schoolhouse fantasies with my love of big tits. The design of the free tour is great. It really has a classroom feel to it which just adds to the overall theme of the website. Each preview is made up of several thumbnail images. Some large, some small. You also get the names of the girl or girls featured in the scene as well as a description of what's going on. And of course, there's links to sample videos for each preview. But sure to check out the other pages of the tour to see more of what's available inside. And don't forget to click the All Scenes link near the top of the page for an interesting surprise!

General impression: I love the schoolhouse fantasies. Whether it's the naughty schoolgirl or the horny teacher, there's just something about it that gets me going. And like most men, I also love huge tits. So naturally, bringing the two together was going to make for an interesting site. At first glance, everything looks great. The girls are hot, the scenarios even hotter and their tits are fucking amazing. The quality of the pictures and videos looks great and I can't wait to get my hands dirty.

Bravo's opinion:  The member's area looks every bit inside as the tour does outside..

On the first page of the member's area, you'll find the latest update to the Big Tits At School member's area. Along with each update comes the date it was added, a description of the scene, and the rating it has received by other members. You're also given a list of the various content options available for that scene: High quality pictures, screencaps, download full movie, 30 minute clips and full movie stream.

At the top of the page, you'll find a link to the "Our Girls" area which is basically the content archive. Here you'll find all of the scenes within Big Tits At School listed in the order at which they were added with the most recent scenes appearing first. Currently, there are 385 full-length Big Tits At School scenes available. Not bad for a website that's brand new. As for updates, you can expect weekly updates as a minimum. I've been in some of the other websites operated by the folks behind Big Tits At School and take it from me; they know how to spoil their members. You don't even know the half of it yet.

There are two different image galleries available for each scene. Both types of galleries can be viewed online or can be downloaded in zip archives for offline viewing. First there are the high quality pictures, which are high quality stills taken during the fucking. The other galleries are screencaps. These pictures are basically stills taken directly from the videos and thrown into a picture gallery. These pics are of course a little on the blurry and grainy side. For my money, I wouldn't even bother with the screencaps and neither should you. Stick to the high quality pics and the videos.

Speaking of which! There's a lot of options available when it comes to video. I've already mentioned that you can download the full-length scene, view it as one minute clips or stream the full-length scene. But there's quite a few options available no matter how you choose to view the videos. All of the downloadable videos, whether they're large clips, one minute clips or the full-length file are available in both WMV and MPEG4. And all of the streaming videos are only available in WMV format. The MPEG4 files are physically larger than the WMV files, but are in the same resolution. There's very little difference in terms of quality. But oddly enough, I think it's the WMV files that have the edge in terms of quality. So save yourself some much needed bandwidth and get the WMV option! The website is really fast, so downloads are great. If you're on a decent connection, you'll be achieving some pretty incredible speeds. I enjoyed completely uninterrupted streaming.

The resolution of the videos, both WMV and MPEG4, is an impressive. I'd recommend the full-length WMV files. The WMV option is the best quality available and the full-length file is certainly the most convenient.

If you clicked the All Scenes link on the tour like I mentioned, then you'll already know about the bonus access. Check the tour again if you don't know what I'm talking about. On that All Scenes page, you see that for joining Big Tits At School, you also get access to another 29 exclusive websites. That's 30 websites for the price of one. And across those 30 websites, you'll get over 6,200 exclusive full-length videos! Talk about good value for money. Be sure to check out our reviews of Baby Got Boobs, Jug Fuckers, Big Wet Butts, BustyZ, Butts & Blacks and Hot Chicks Big Asses for a glimpse at just some of the websites you'll be receiving access to.
Big Tits At School Site Facts
Conclusion 90/100
A great idea that's been pulled off really well. The site is brand new and it's only in its infancy but already it's impressed me greatly. The archive will continue to grow at a rapid rate with new pictures and videos being added all the time. You only have to look at the number of scenes available in the network of websites to be sure that Big Tits At School's archive is going to grow to be huge. Value for money isn't even in question. It's absolutely incredible. This is a membership that is going to keep you entertained for a very long time. If you like big tits, you'd be crazy not to join this website. Enjoy!
Visit Big Tits At School
Categories