Asian Suck Dolls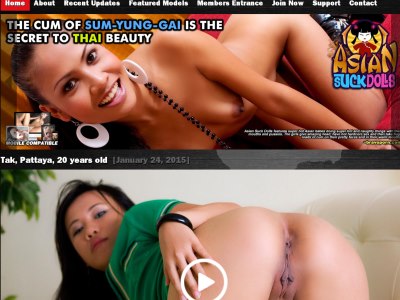 Beautiful babes await you inside Asian Suck Dolls. They will give great head and have hot hardcore sex with well hung white men and then beg for their hot cum. The videos are downloadable, there are picture galleries with most scenes and you get seven bonus sites just for joining. It's a fine collection of hot content.
Asian Suck Dolls: Thai college girl mouth filled with cock and shaved pussy fingered
Asian Suck Dolls Review
2-February-2015
Freetour offers: The name of the site is Asian Suck Dolls which is why I was a little surprised, albeit pleasantly, to find the girls getting fucked as well as sucking dick. The tour offers a preview of the most popular scenes with nine pictures/screenshots from each and a downloadable trailer. You can also read a description if you'd like, but why bother when you have so much wonderful media available to you. Instead I'd go ahead and check out the videos.

General impression: My first thought is that if you dig Asian babes you're really going to like what they're doing at Asian Suck Dolls. The girls are super hot, the sucking is exceptional and the fucking is tight. Plus, they end each scene by blowing a big load on the girl's face or in her pretty mouth. Not only are these ladies Asian suck sluts but they love cum too! Did I mention how pretty they are? That's worth pointing out again because these are some seriously hot chicks.

Bravo's opinion:  The member's area is simple but elegant. There's a list of featured girls on the main page and I presume they are the favorites of the site runner. The bonus sites are also listed on the page along with links to other Asian sites, a few cam shows and a VOD site. That's a few too many advertisements for my taste but they keep it at the bottom so it's not a nuisance. The only other page to visit is the one with all the full complement of updates.

Let's start with the good stuff first. They mention on the tour that all the scenes are shot in Asia so you're not getting overexposed girls that you've seen a hundred times before. That was a smart decision because the models are the site's strongest elements. They're universally good looking with some merely getting you hard on sight and some utterly blowing your mind. If you like Asian babes I promise you will like the women they've lined up for you here. If you don't dig Asian chicks then you probably shouldn't be reading this review.

There are over 44 scenes at Asian Suck Dolls and each has a downloadable video and a screen capture gallery while some come with a high quality photo gallery. Those photos are not high resolution however; medium would be a better description. They open in a new window and it's well coded because it pops and closes quickly. The videos are decent quality at 720x480. You can download them in a full length clip in either WMV .

The girls are the greatest strength of Asian Sucks Dolls and the things those naughty girls do is the second strength. There's a quality to these hardcore videos that elevates them above most of what you see in Asian fuck porn. I get the impression that the girls aren't professionals in terms of going on camera to fuck. I think they might be professional sex workers, but that industry is not frowned upon in some Asian countries as it is in the United States. I'll bet they traveled to Thailand and hired a bunch of chicks to fuck and do so on film. That's what I'd do if I were starting a site.

The sex begins with a blowjob and it's always stunning. I don't know where these girls learn to suck cock but they're experts. Some are good at deepthroating and others are fantastic when it comes to using their hands for pleasure. They incorporate throat fucking into some of the scenes and there's a fair amount of ball licking as well (I love that stuff!). The sex typically includes at least two positions with doggy style being the most frequently used. When the scenes are being filmed from the first person perspective, as most of these are, doggy style always looks awesome because it's like you're doing the fucking.

If you're into Asian facials you will love Asian Suck Dolls. Each scene finishes with a big load being dumped on the girl's face. The guy who seems to do most of the fucking really shoots a heavy shot and he aims it very well. It's awesomely nasty stuff. Of the girls my favorite is Nina, a hottie who poses as a naughty little schoolgirl in a short plaid skirt and a white tube top. She's even sucking on a big lollipop. Also hot are Som, Gik and Mo.

They never mention how frequently they update but it's obvious that it's not very often. The site has been online for nearly 9 years now and they have 44+ total scenes. At best that's 1-2 updates per month and at worst they haven't updated since they launched. Just don't count on tons of new content. You do get seven bonus sites as a member. Creampie Thais is another sexy Asian site with hot Thai sluts taking internal cumshots. Other niches covered by the bonus sites include regular creampies, facials, three solo babe sites and an interracial site with babes of all races.
Asian Suck Dolls Site Facts
Conclusion 83/100
Asian Suck Dolls features super hot Asian babes doing super hot and naughty things with their mouths and pussies. The girls give amazing head, have hot hardcore sex and then take huge loads of cum on their pretty faces and in their warm mouths. The videos are yours to download at while the quality is not great it's good enough to please. There are 44+ scenes total and each is a terrific experience but don't expect frequent updates. The seven bonus sites add to the value of your membership significantly and are all fairly well done.
Visit Asian Suck Dolls
Categories